How to Import a Product to Shopify
Getting Started
Welcome to CM Offer!
Welcome to CM Offer! In this article we will cover how to import a product to your Shopify Store from the CM Offer platform. If you're excited to start your own online store with CM Offer but aren't sure how to get started, then this article is exactly where you should be!
Expect to spend around one hour per product that you want to list on your online store. After choosing a couple of products users should consider ordering a physical sample while they plan out next steps to get their store up and running as soon as possible!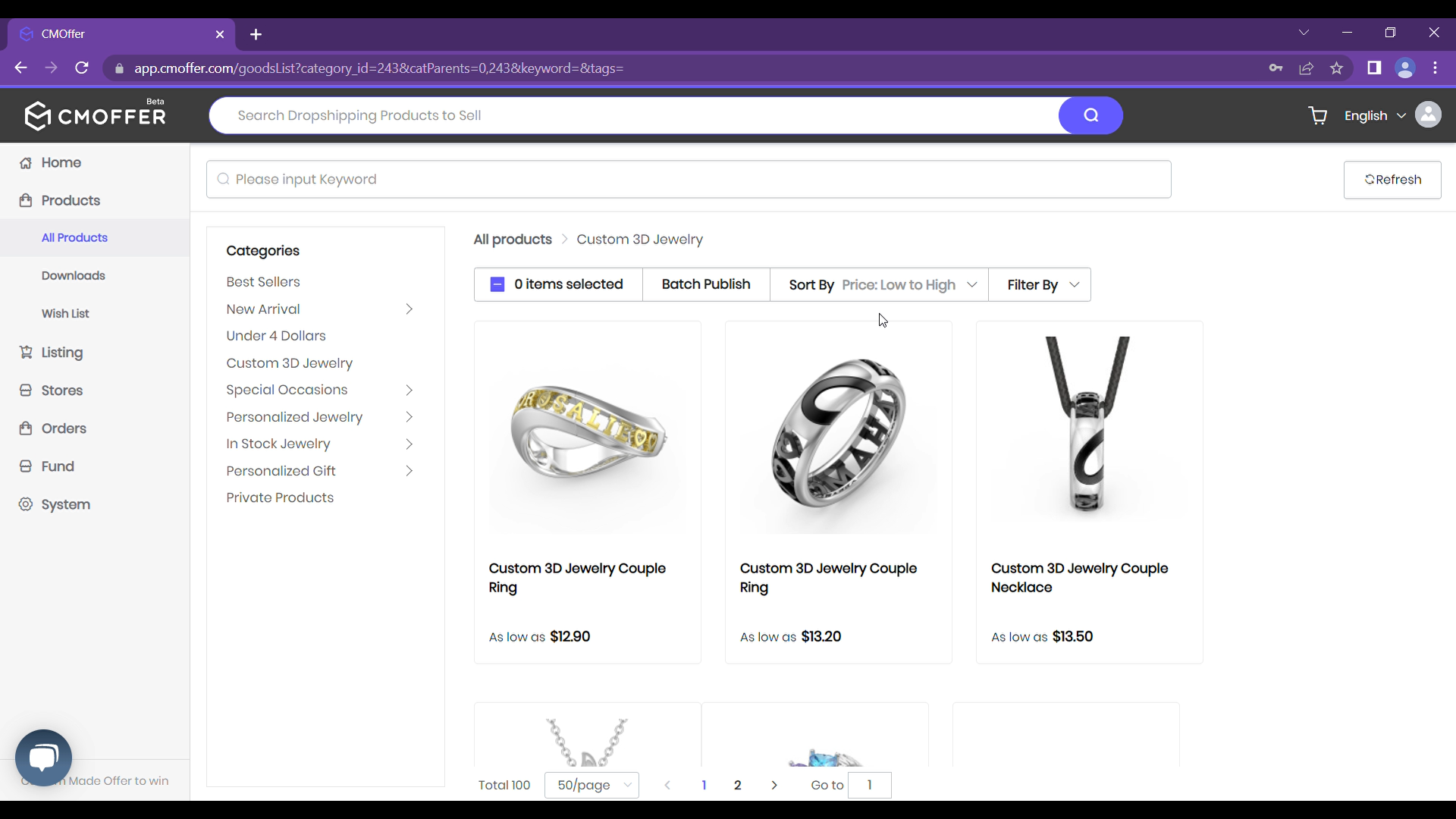 1. Import CM Offer Product Listing
Start by using your CM Offer account to import an existing product listing into your Shopify store.
2. Review Details in Shopify Listing
Next, preview the product listing from your Shopify store to verify that all details have been imported correctly.
3. Prepare for Launch!
After publishing your product it will be live on your Shopify store where real customers can now make a purchase!
1. Import CM Offer Product Listing
After logging into your CM Offer account, it is easy to export any listing from our entire catalogue of 10,000+ customizable products! You can technically open you store with one published listing, but we encourage users to spend more time thinking about which group of 8 to 12 products could form a good product base for their new ecommerce store.
Navigate to Your Product
First, navigate to the product listing page for the product that you would like to add to your store.
This can be down from the All Products page or the Wish List page. We recommend using your Wish List as a place to store products that you think would make a good fit for your store easy to find later.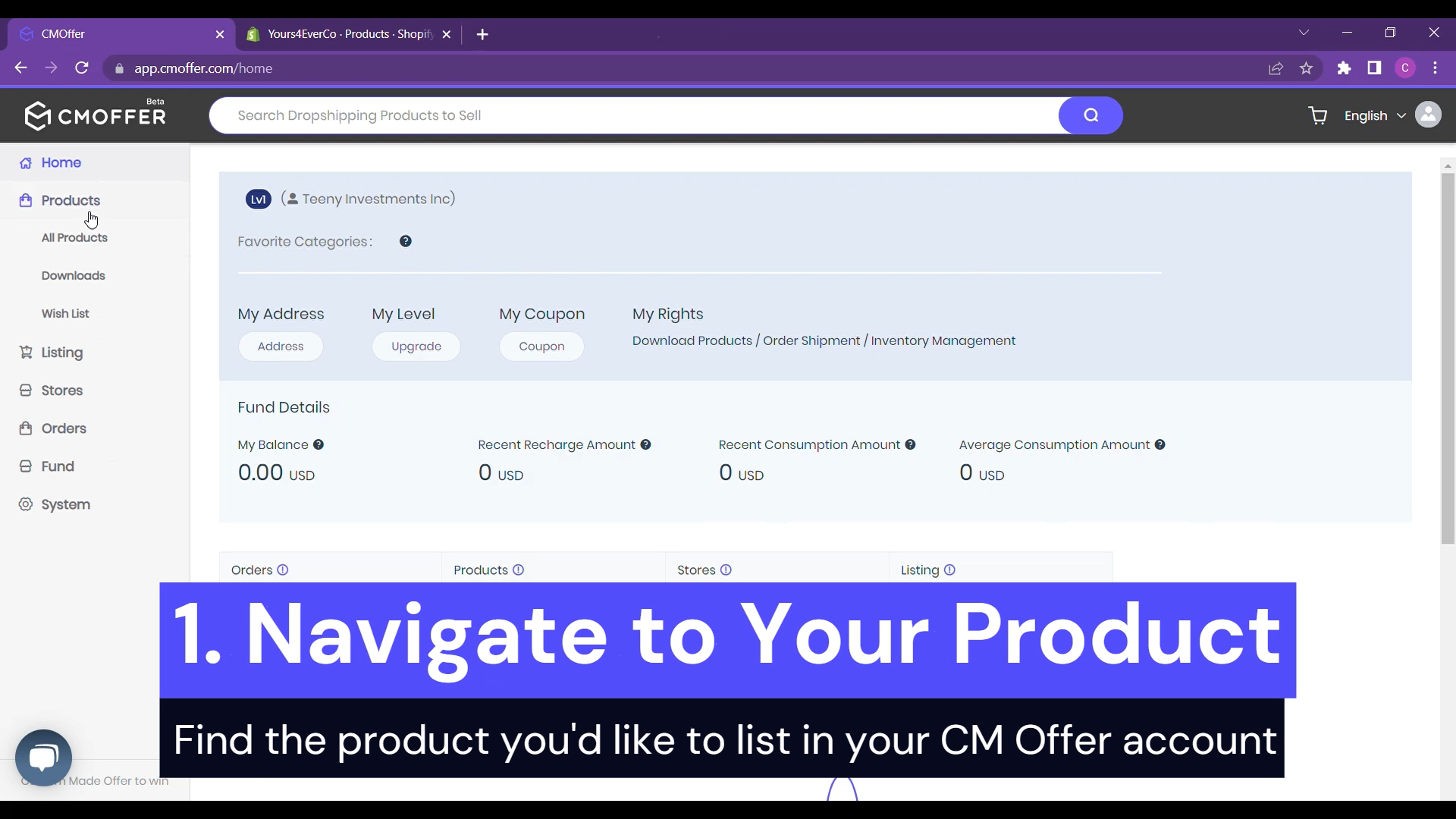 Click the Publish Button
From the Wish List page, you can click directly on the "Publish" link to open up the product export dialogue window.
If you are adding products directly from the "All Products" section, then you can find the publish button inside the detailed product listing.
The dialogue window will be the same regardless of which method you use to find your product.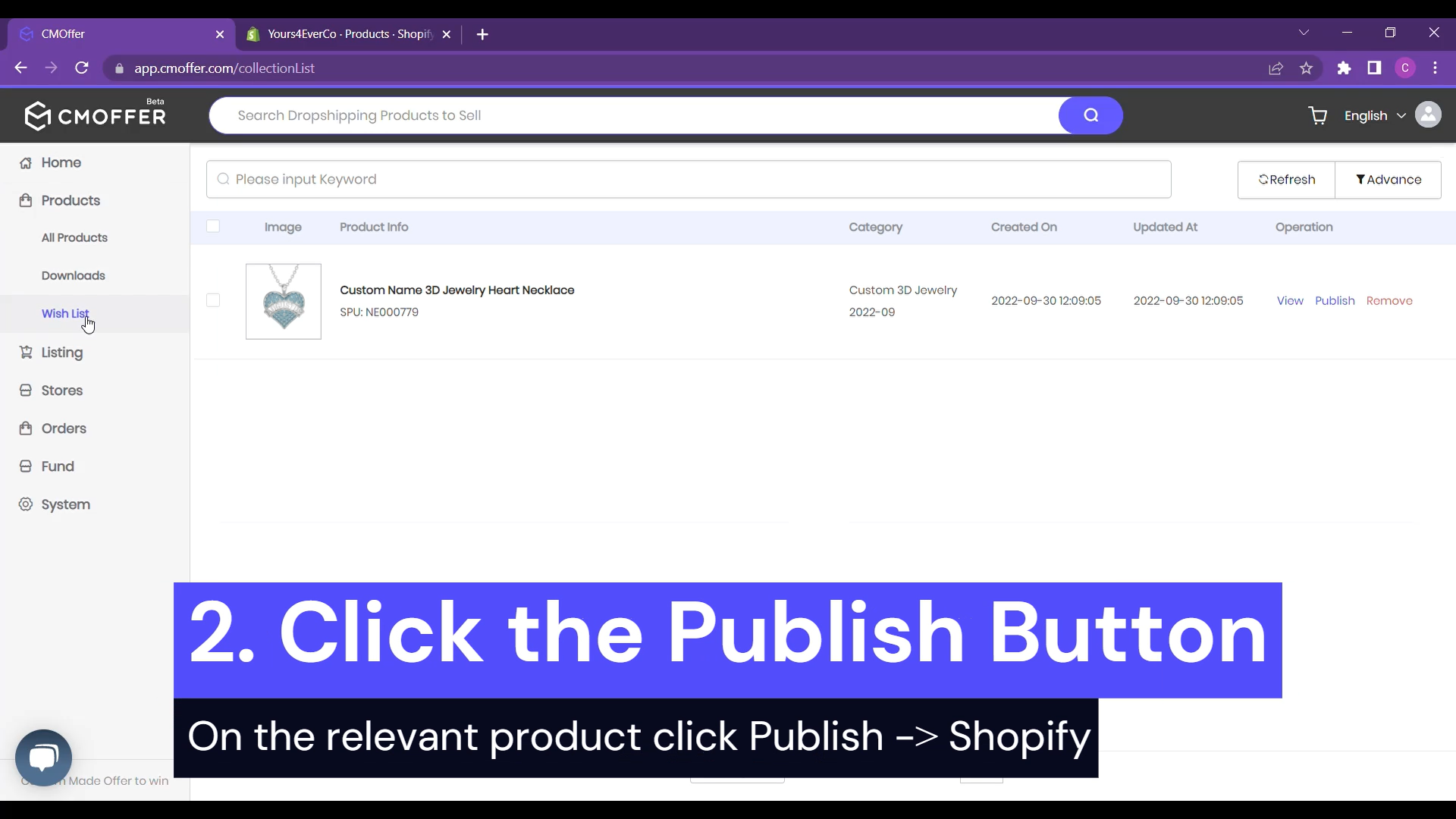 Modify Listing Details
To publish the product to your store will only require you to fill one field before hitting the "Publish" button. This is the "Shop" option at the top of the list.
Select the Shop that you would like to publish your product listing to.
You can also edit any of the details that appear inside the product export dialogue window. These details can also be edited after importing to the listing to your Shopify store. Whether you prefer to edit details in CM Offer or Shopify is a matter of preference, but more experienced users may be more familiar with how to edit listing details in Shopify.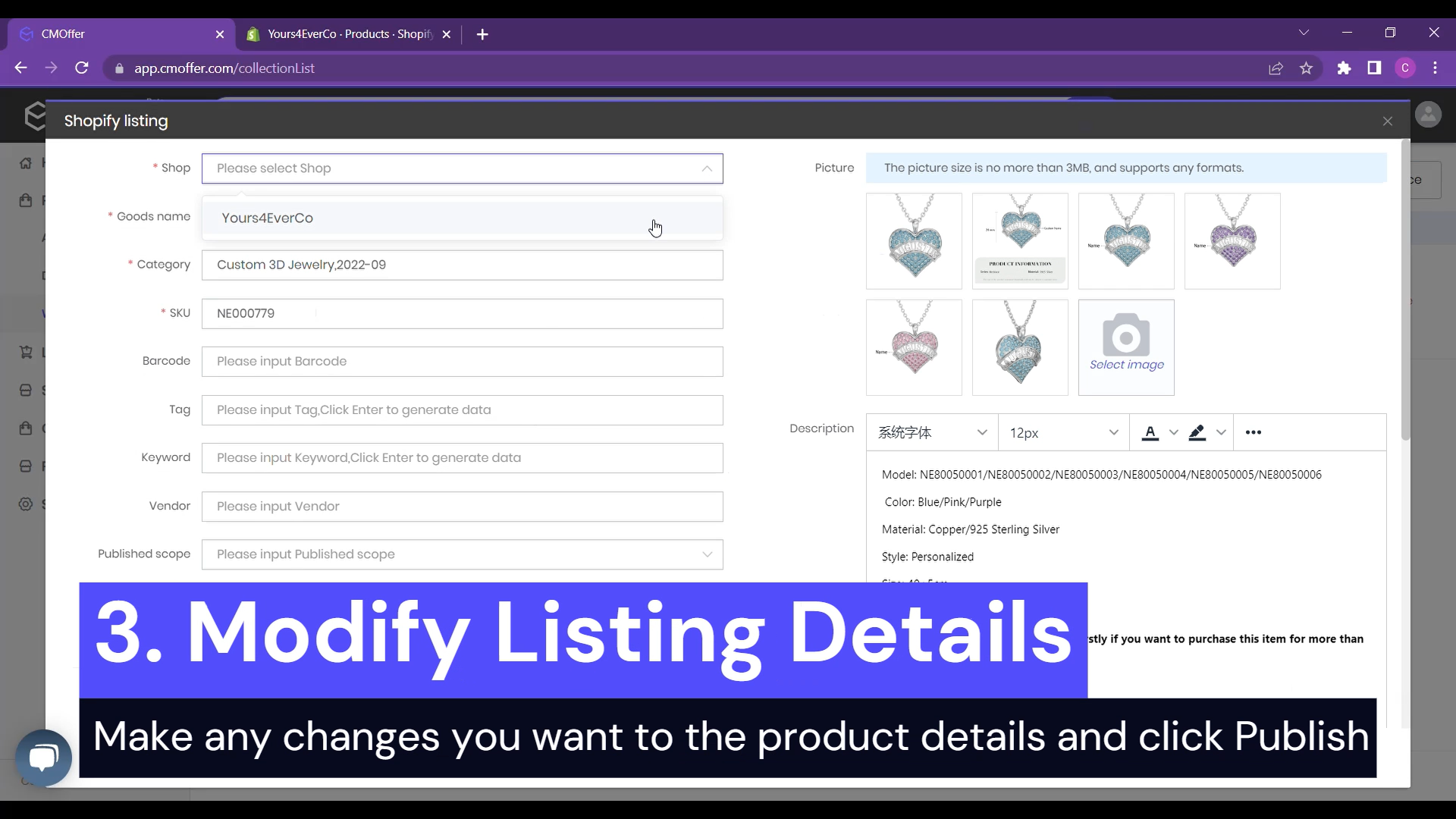 Review Details in Shopify Listing
After you have exported the listing from CM Offer, it is time to review the details on the Shopify side. Expect to spend around one hour per product listing, but the first product will take the longest! This time estimate also includes some time to write a unique product description that will fit your brand voice, and lifestyle photography using your physical sample product.
Move to Your Shopify Store
After exporting the product listing from CM Offer, you will need to login to your Shopify store and navigate to the Products page.
If you are already on the Products page when exporting from CM Offer, you may need to refresh your window before the new addition will populate in your list of products.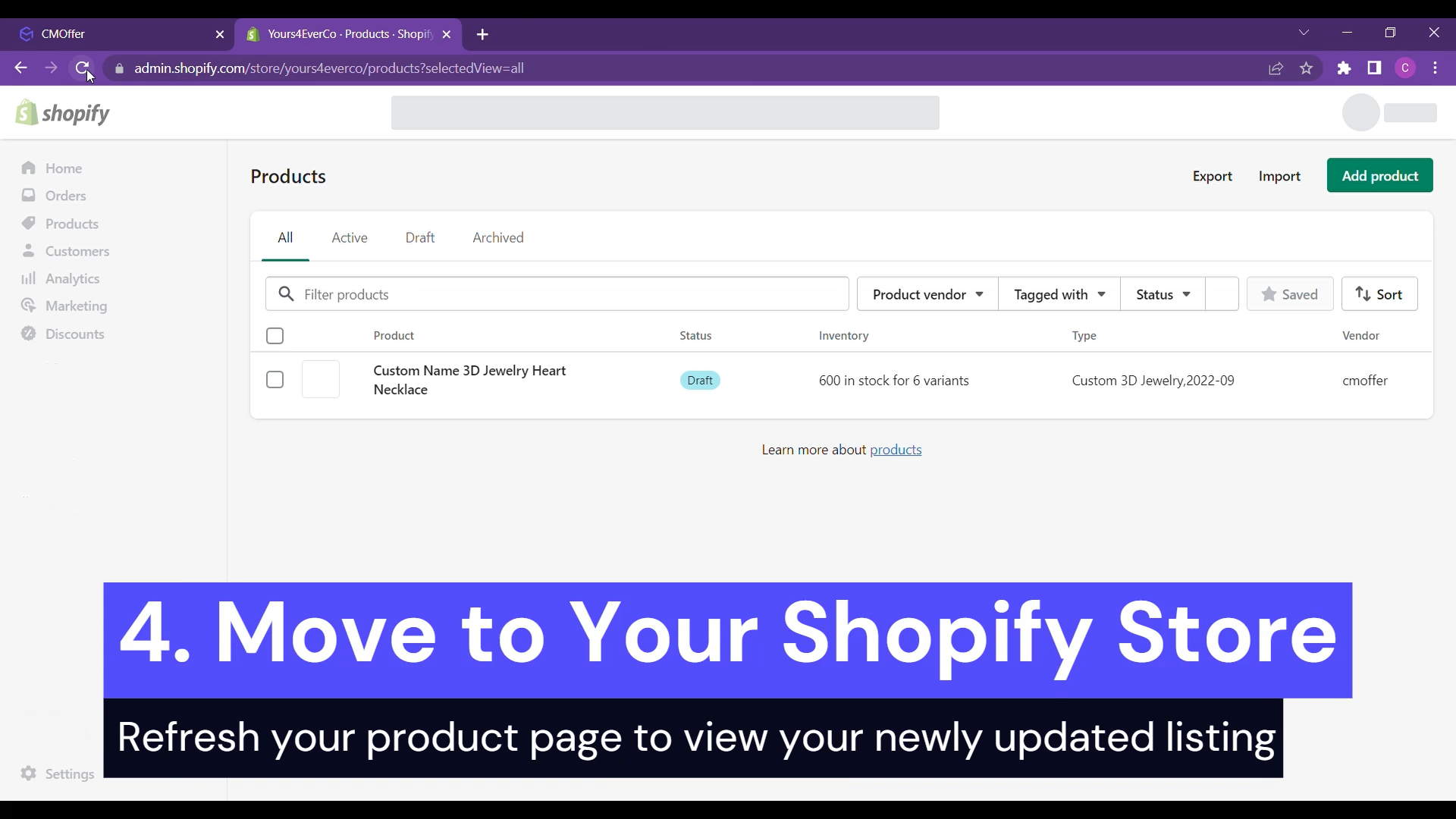 Important Note
This tutorial was made using the "Start" theme in Shopify. We chose this theme because it is available to all Shopify plan levels. We recommend the Starter plan and theme for ecommerce beginners who are looking to start their first store.
More advanced users may use different themes that add extra functionality to the Product Listing pages. It is likely that these additional fields will need to be edited manually after the main export has taken place.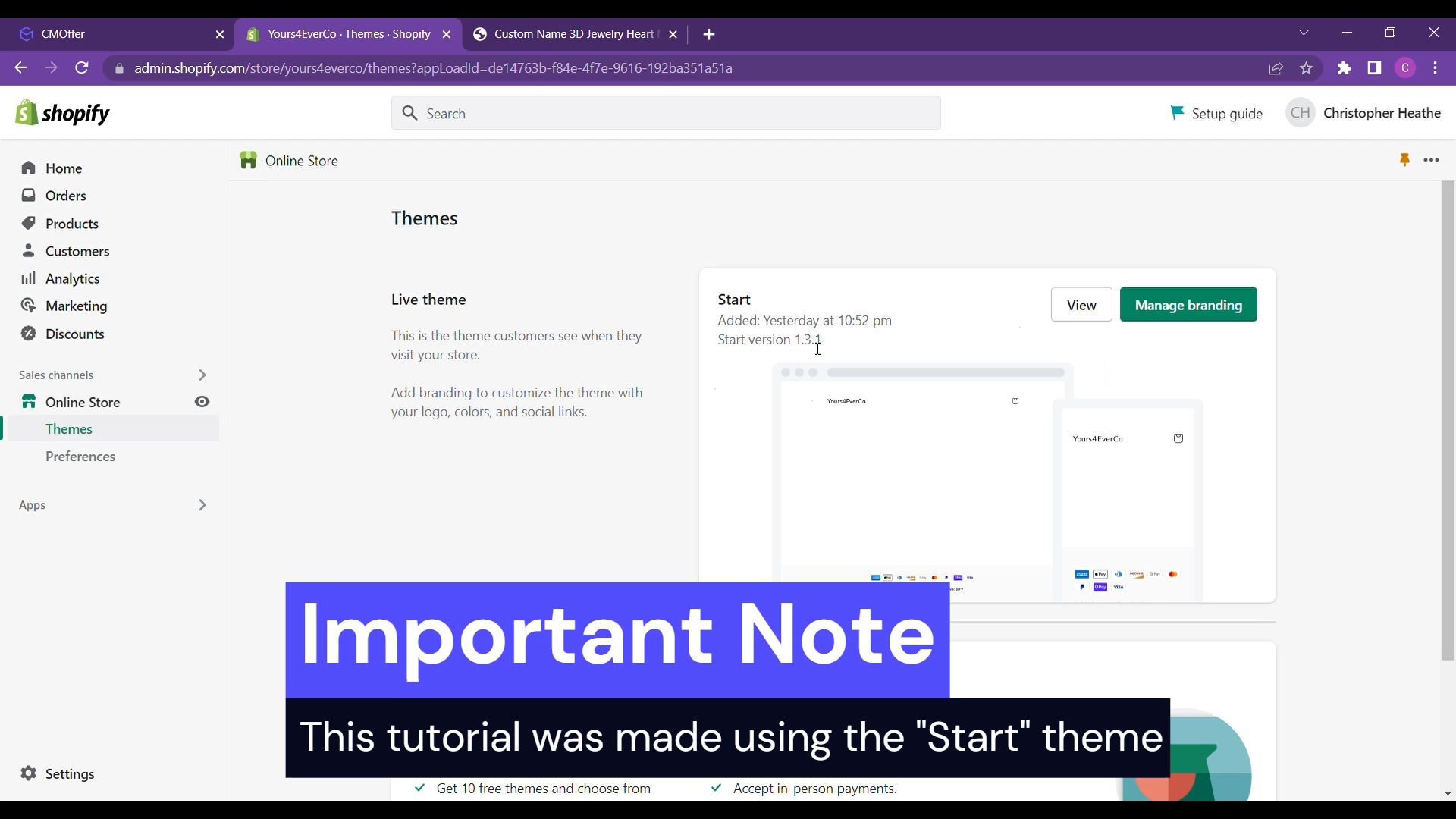 Make Listing Edits in Shopify
At this point, it is time to make any edits to the listing that were not made during the CM Offer export process.
We recommend previewing the listing before publishing to check for any mistakes in the listing details. It is also good practice to ensure that all of the customization fields you require to submit an order are visible from the Product's public listing page.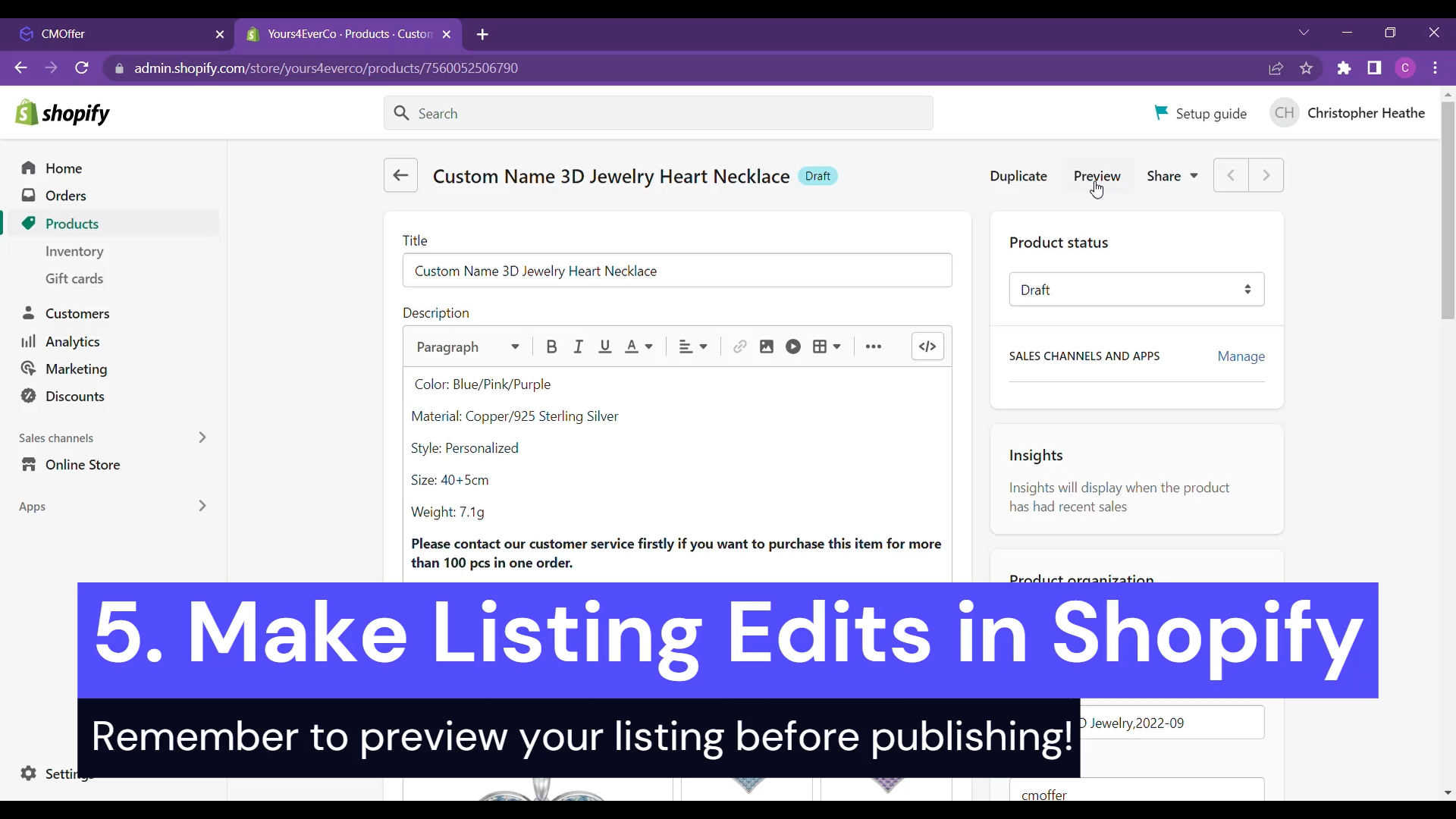 Set Your Listing to Active
Once you are satisfied with your product listing, the last step is to change your Product Status from "Draft" to "Active".
We recommend building up 8 to 12 product listings before launching your store to the public.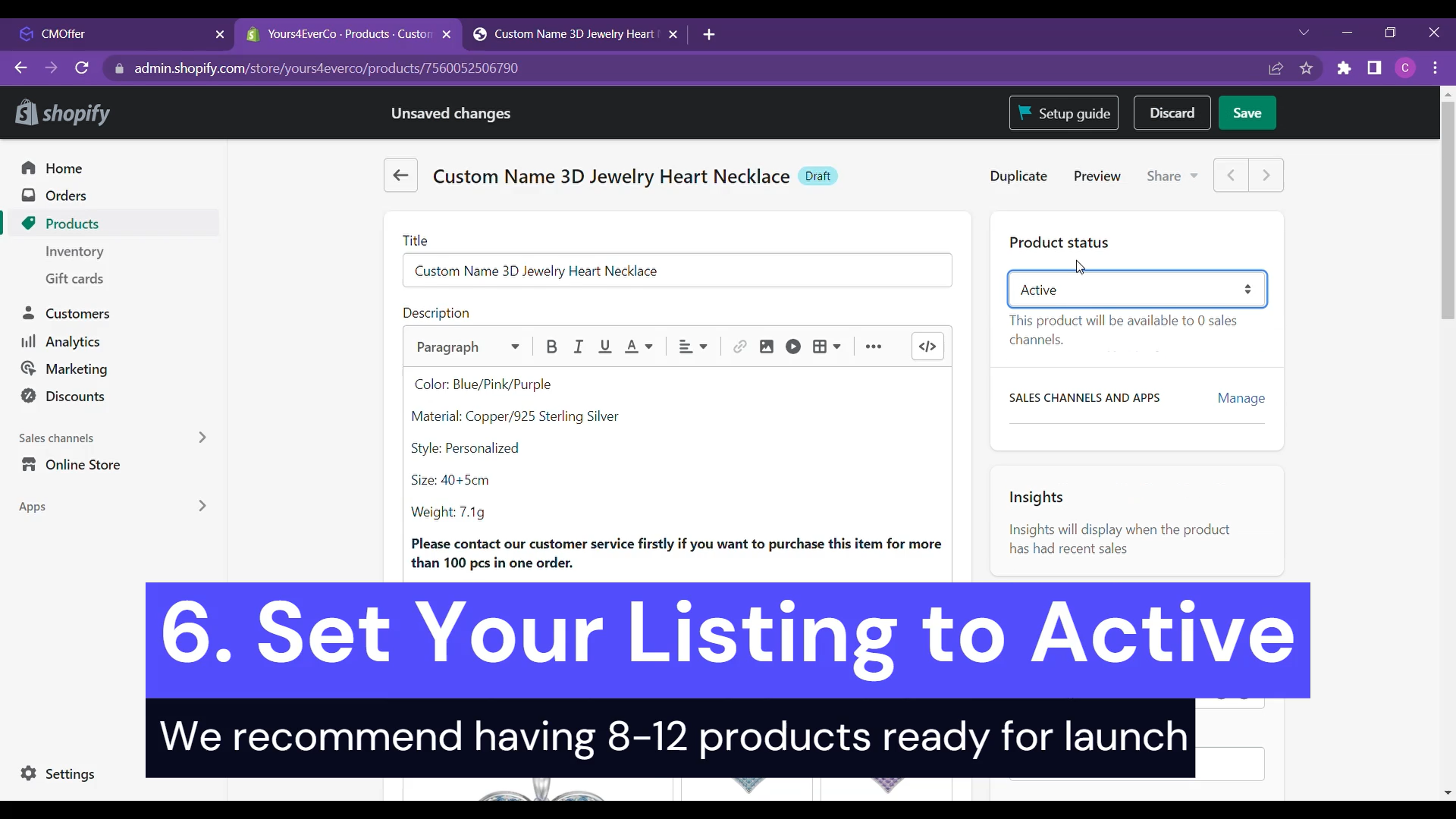 Now that you have successfully imported a product to your new Shopify store catalogue, it is time to start preparing for your store launch. We strongly recommend that you add your first couple new products to your store as drafts until you have a build up of 8 to 12 products. After you have enough listings ready, do one last double check of the details in your store and publish your listings to the general public!
Can't find the answer you're looking for? Please chat to our friendly team.