How to Import a Product to Etsy
Getting Started
Welcome to CM Offer!
Welcome to CM Offer! In this article we will cover how to import a product to your Etsy Shop from the CM Offer platform. If you're excited to start your own online store with CM Offer but aren't sure how to get started, then this article is exactly where you should be!
Expect to spend around one hour per product that you want to list on your online store. After choosing a couple of products users should consider ordering a physical sample while they plan out next steps to get their store up and running as soon as possible!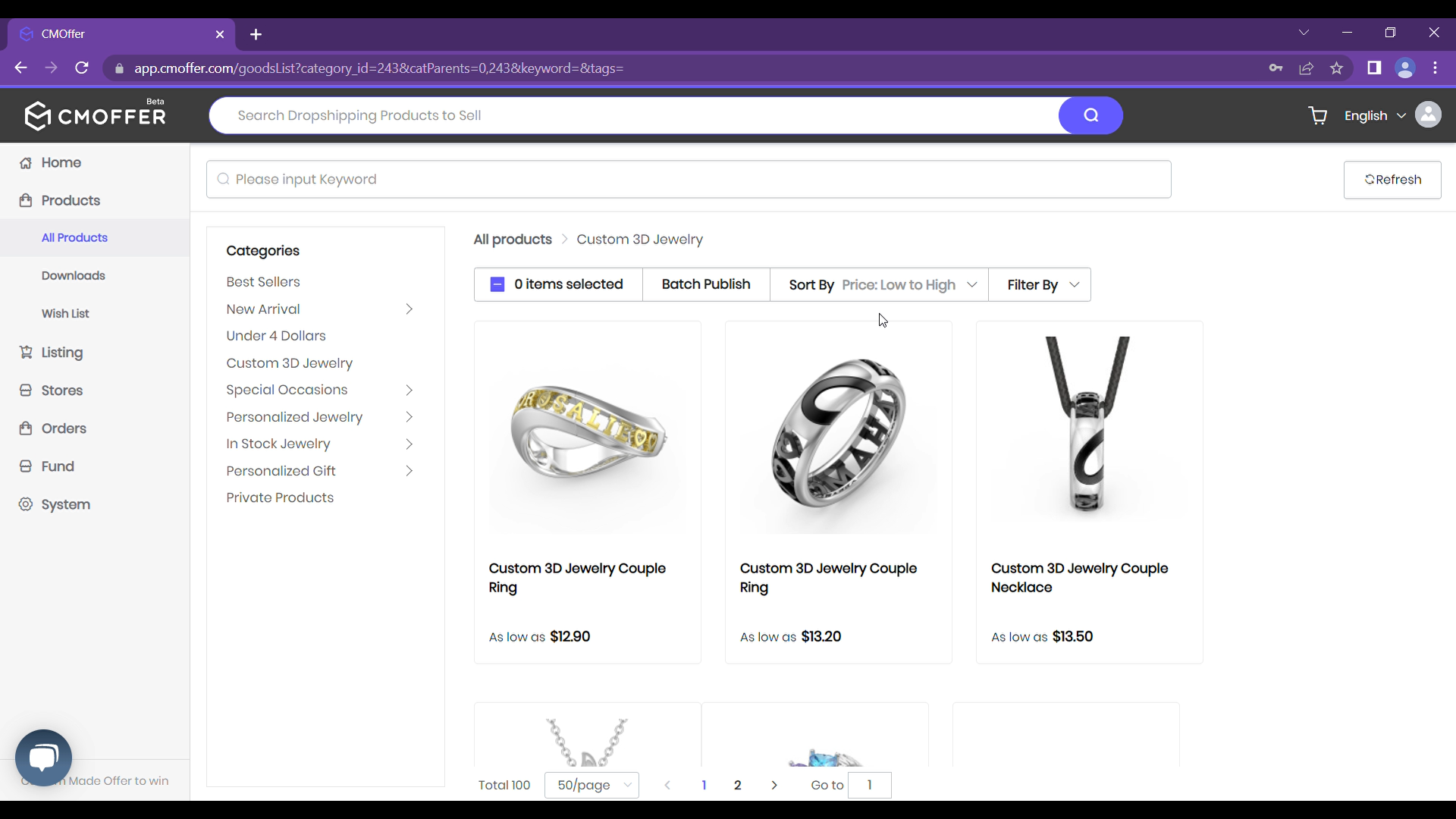 1. Download CM Offer Product Images
Start by using your CM Offer account to download our free to use product photos from the product listing page.
2. Create a New Etsy Product Listing
Next, login to your Etsy Shop account and enter all product details and photos into a new listing page.
3. Frequently Asked Listing Questions
In this section we will cover some of the most frequently asked questions from other users while opening their first store.
4. Prepare for Launch!
After publishing your product it will be live on the Etsy marketplace for real customers to purchase!
1. Download CM Offer Product Images
After logging into your CM Offer account, it is easy to access free to use product photos for our entire catalogue of 10,000+ customizable products! You can technically open you store with one published listing, but we encourage users to spend more time thinking about which group of 8 to 12 products could form a good product base for their new ecommerce store.
Login to CM Offer
First, navigate to the CM Offer login page at app.cmoffer.com/login
You can also get there by clicking the button below: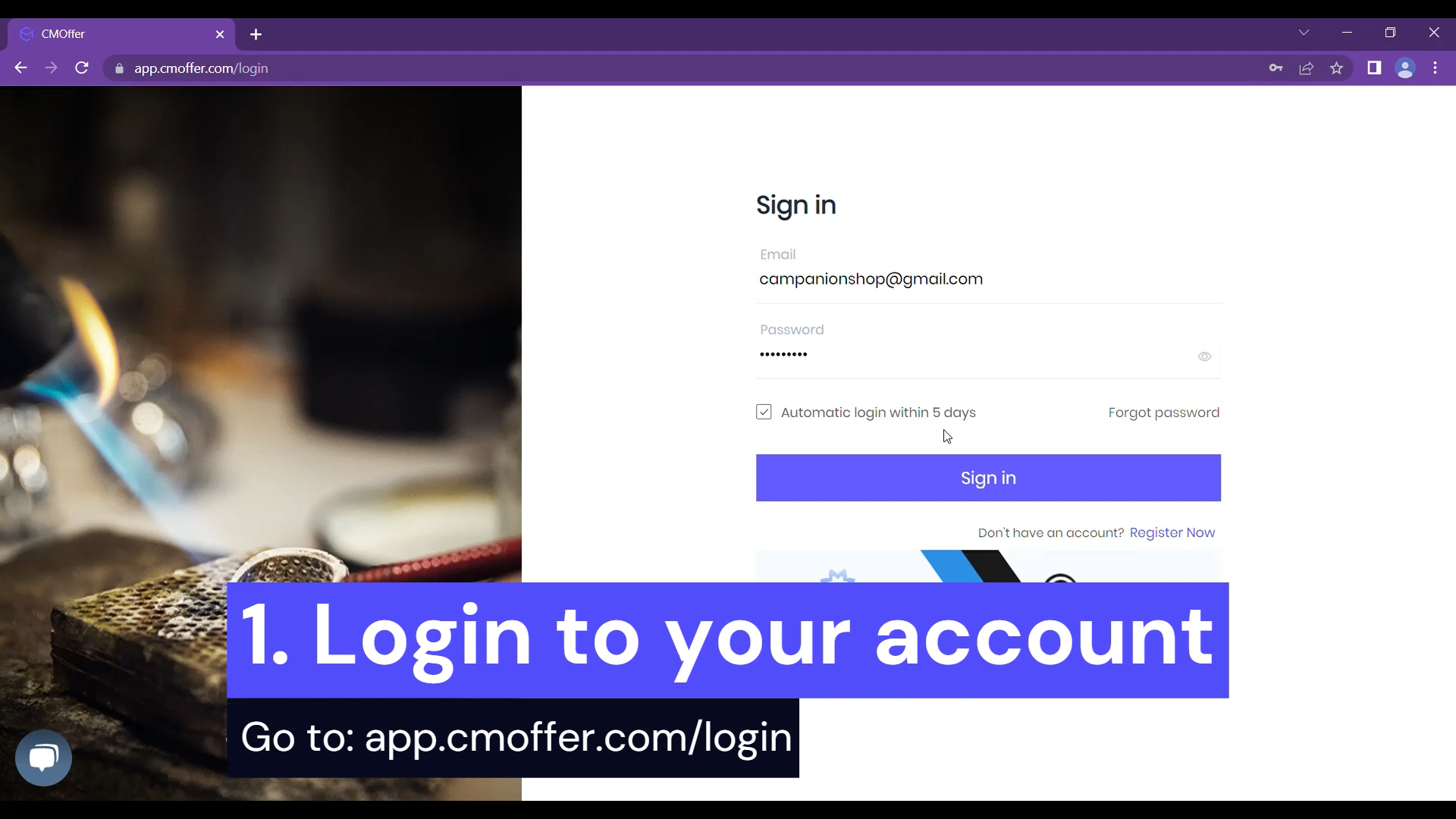 Download Product Photos
Next, navigate to your the product that you would like to order as your first physical sample.
Scroll down on the details panel until you find the "Download" button. This will generate a downloadable ZIP file with free to use high resolution product photos. We recommend that you also consider ordering a physical sample to take some original lifestyle photos to help your store stand out!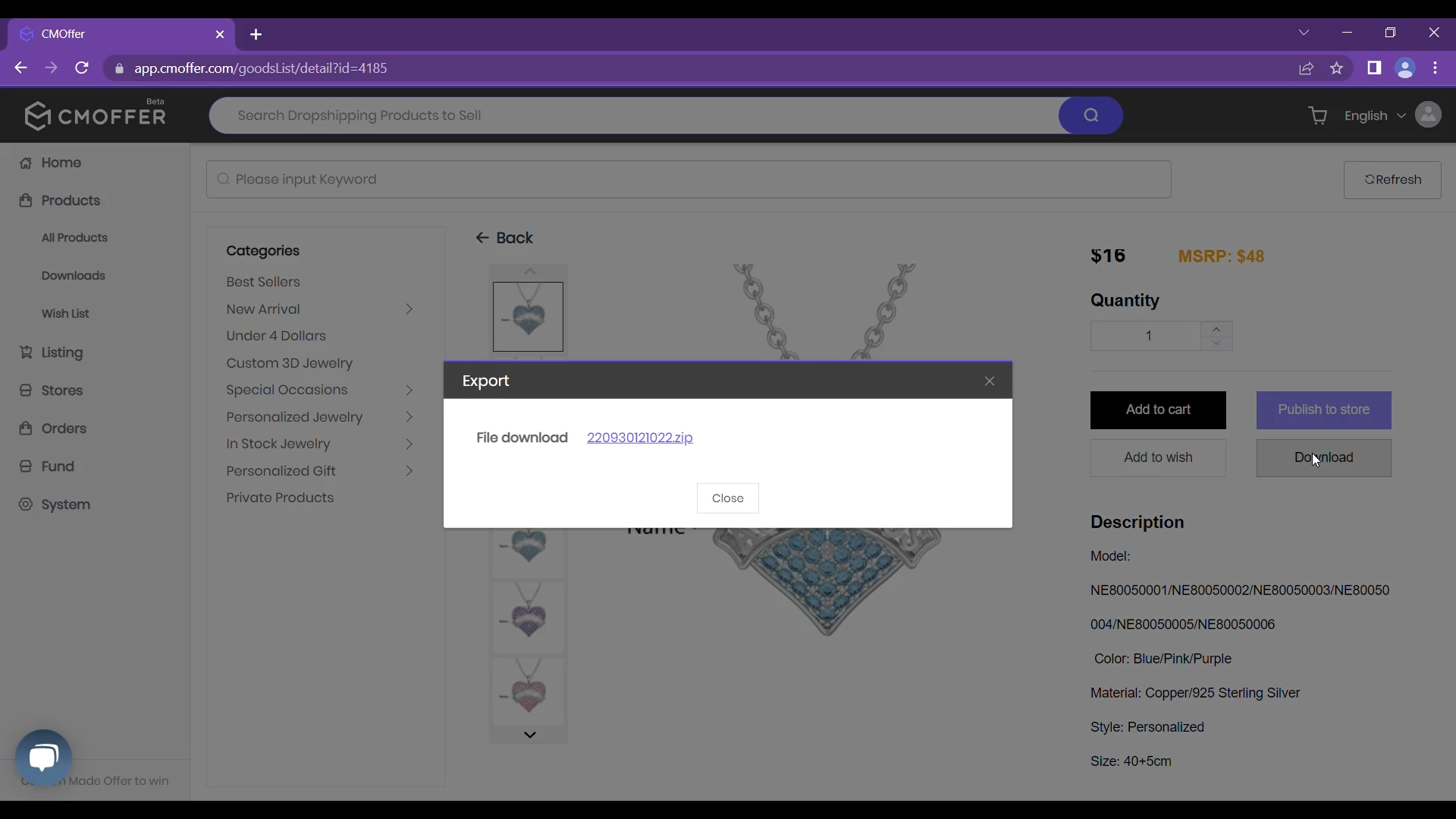 2. Create a New Etsy Product Listing
After you have downloaded the listing photos, it is time to start filling out your new Etsy product listing. Expect to spend around one hour per product listing, but the first product will take the longest! After your first listing is completed you can either generate new listings from scratch, or for similar products you can clone the original listing and update any details that are not the same manually.
Find the Add a Listing Button
After logging into your Etsy Shop Manager, navigate to the Listings page. In the top right hand corner click on the "Add a listing" button to open a blank listing page.
Be prepared to generate some original content including a product title, and enticing product description.
Remember that Etsy customers find products using a search bar, so be mindful of keywords that you think customers may use when they want to find a product similar to yours.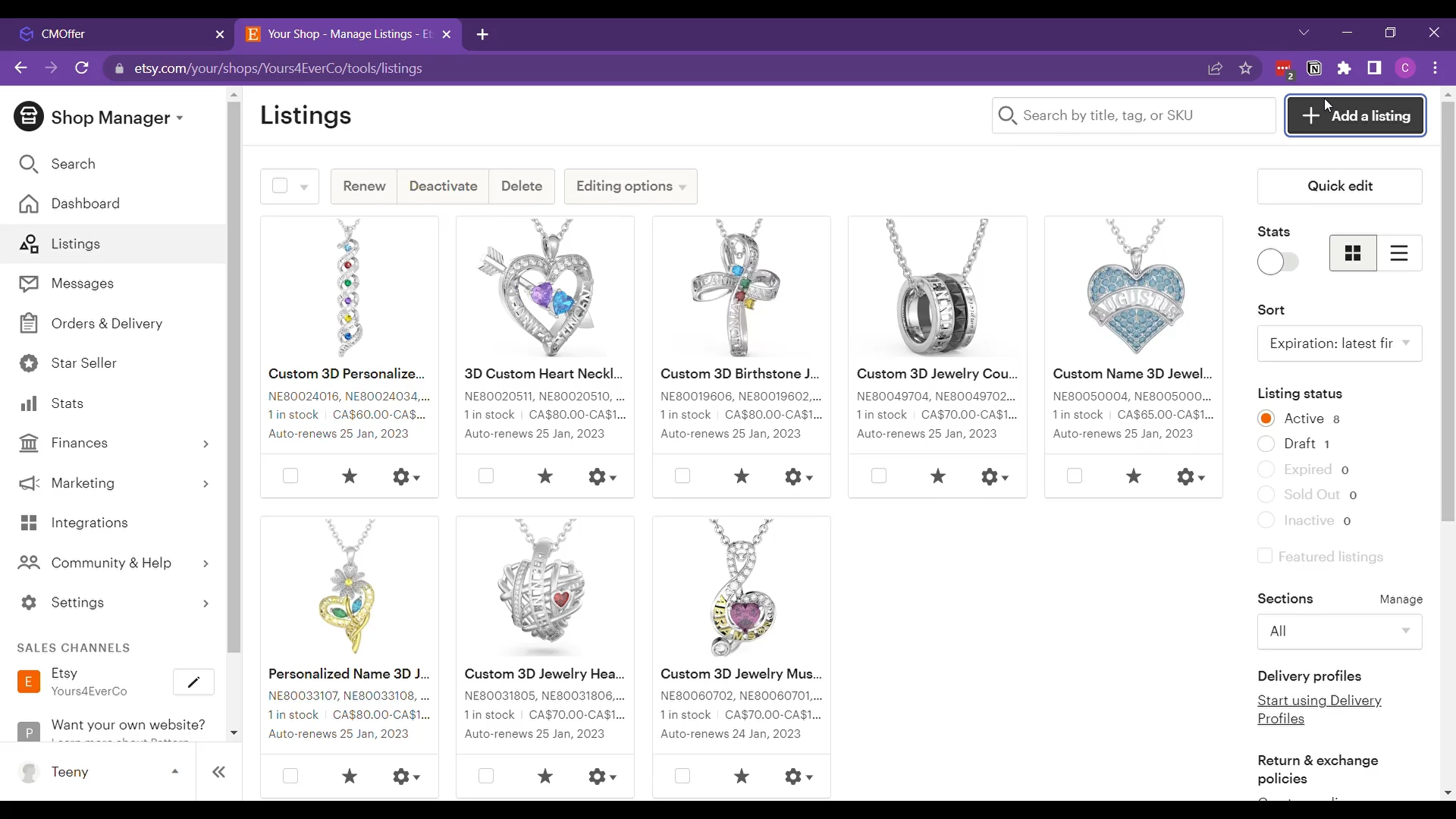 3. Frequently Asked Listing Questions
After you have found a product that catches your interest, it is time to have a look at the product listing details! The product page lets you view all of the customization options for a product, and also allows you to add the product to a Wish List that you can easily view in a separate page later.
About This Listing
In the about this listing section you will need to select the production method and type of product that you are providing. You can select the following settings for your CM Offer product listings:
I did -> A finished product -> Made to order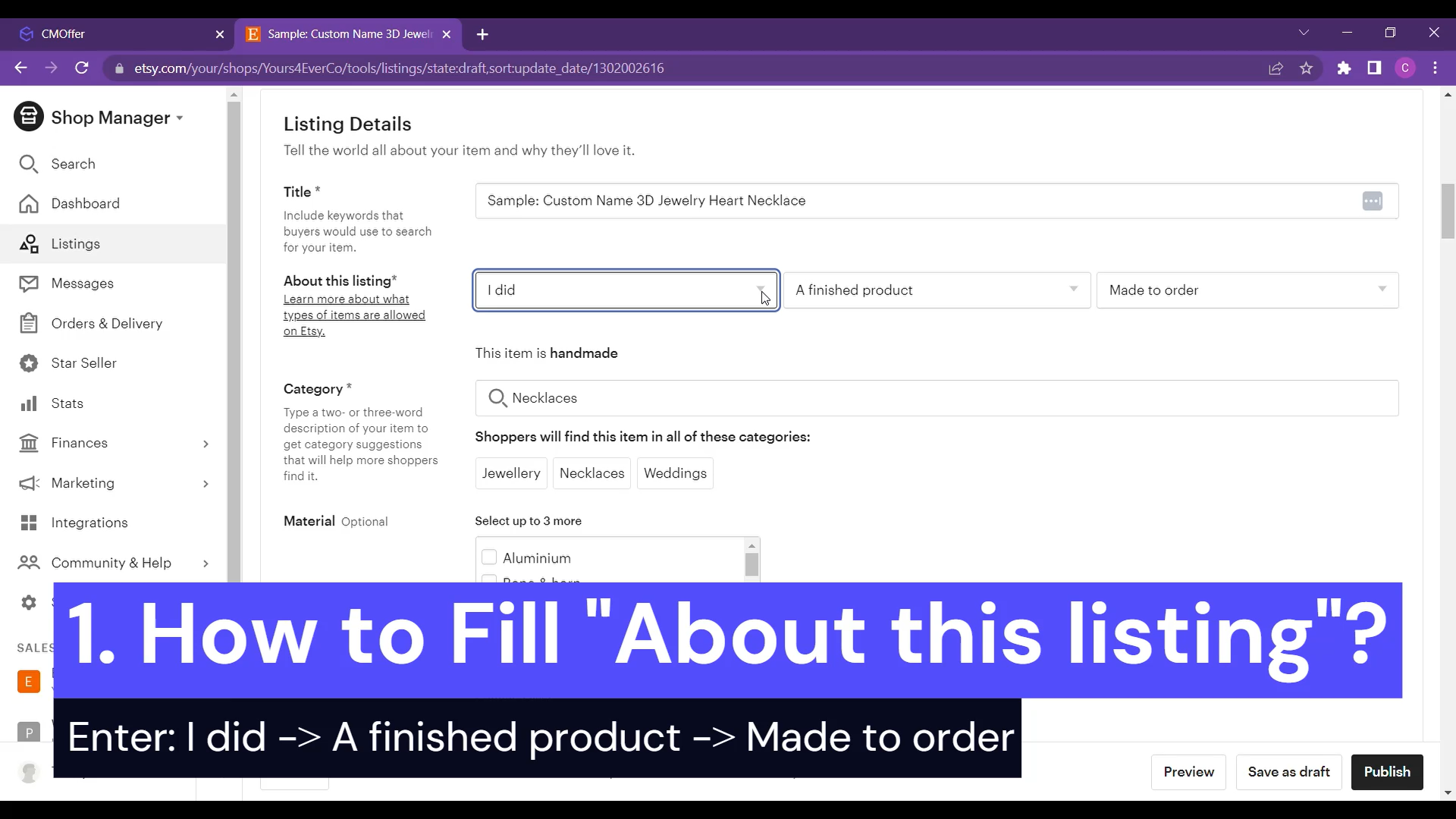 Listing Details
The listing details are where you can enter product information such as the material, color, or variations available on your product.
Etsy offers a wide variety of different products on their marketplace, and tries to accommodate all sorts of sellers by adding a plethora of optional listing details. If you don't have an answer for a certain listing detail, don't worry! Only fill in the listing details that you have confidence are correct.
To confirm information about a product we recommend that you consult the related CM Offer product page, or your physical sample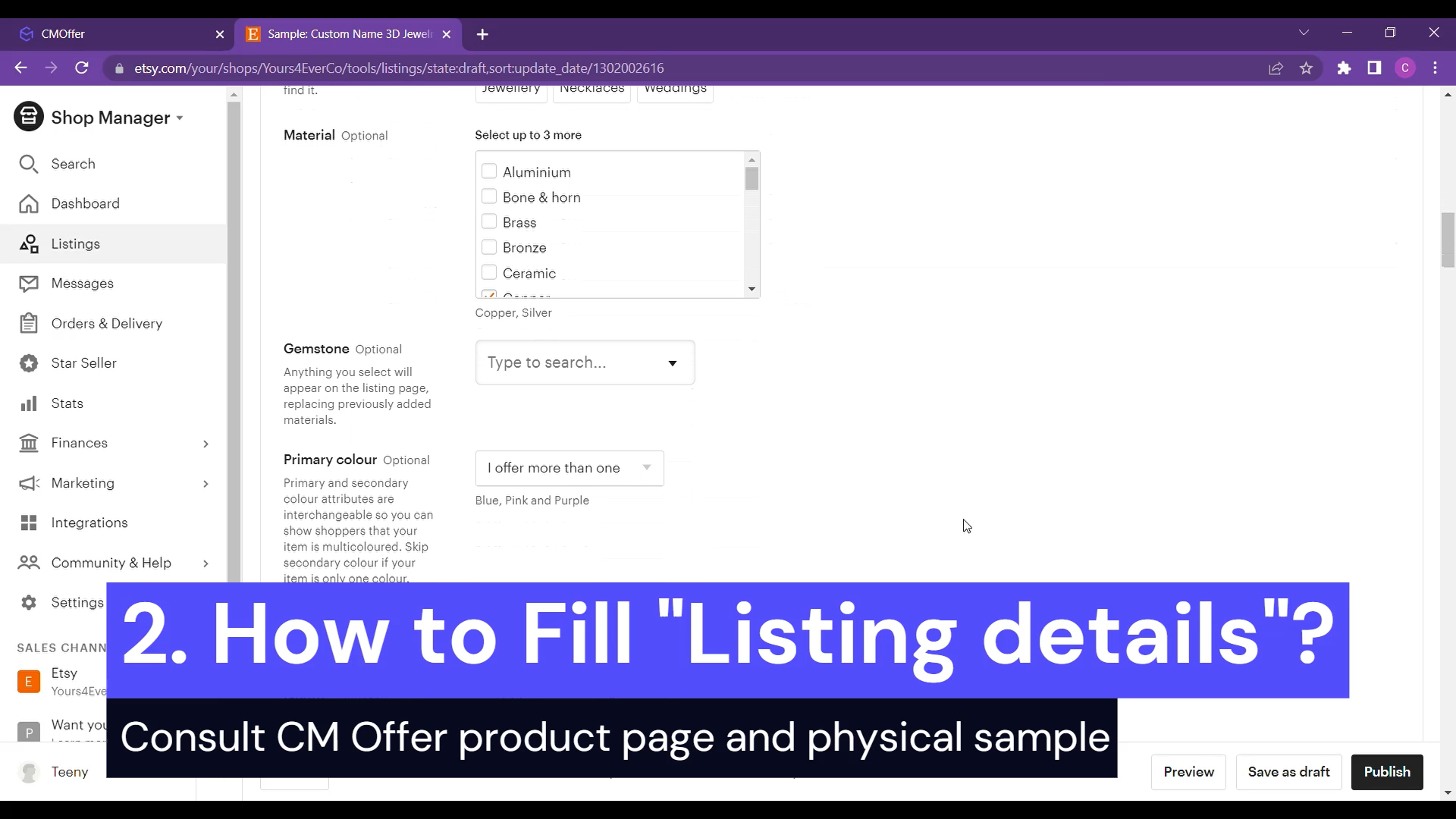 Does CM Offer Recycle?
You may have noticed that Etsy has a "Recycled" listing detail option. Some Etsy customers prefer to purchase products that include recycled materials.
We are happy to say that our products do make use of recycled excess metals that are produced during the jewelry manufacturing process.
Note: non-jewelry products are not made with recycled materials.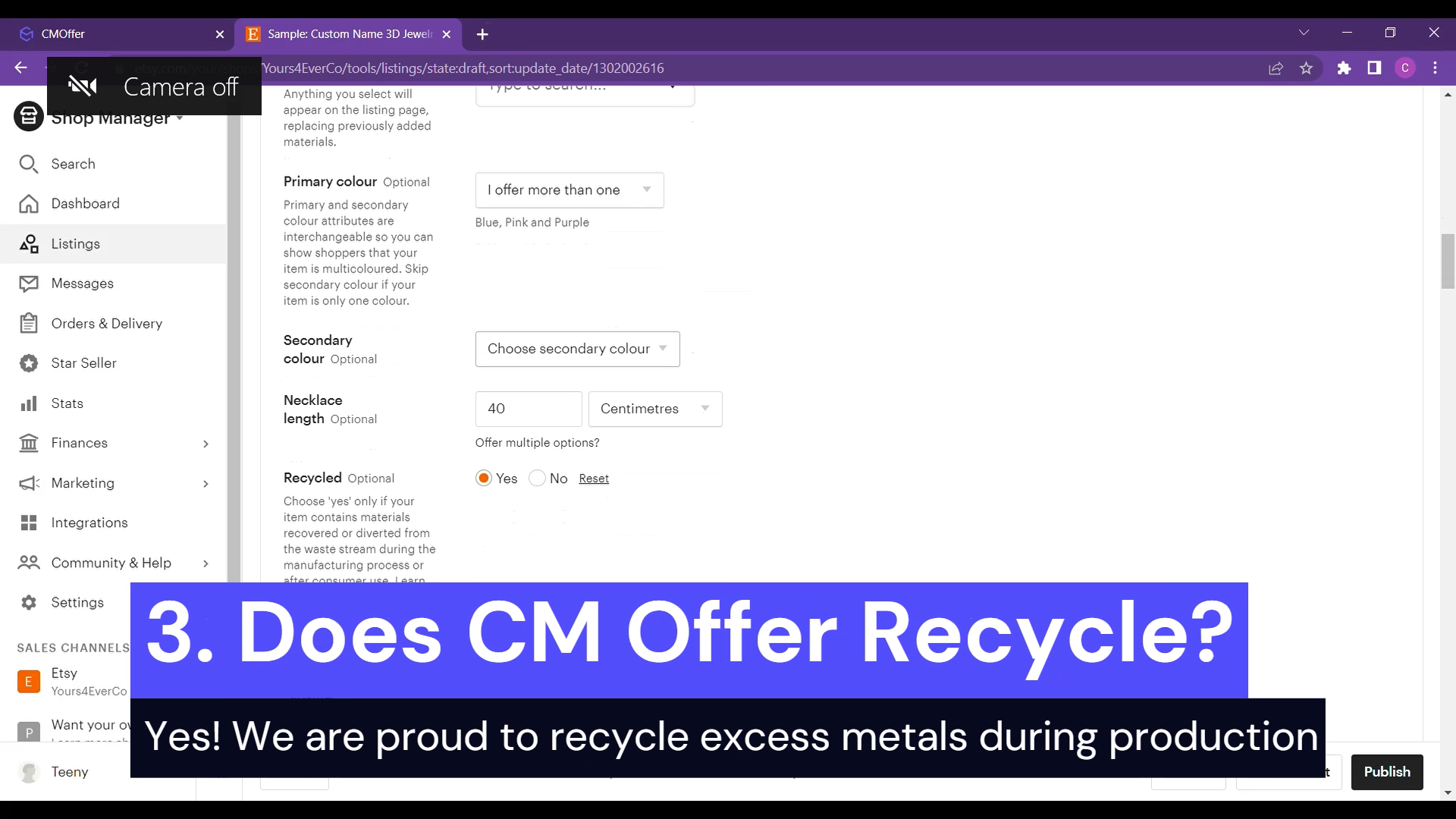 Personalization Details
CM Offer products often offer more than one personalization option. This can make it a little bit confusing for first time sellers to get started.
For any product that you plan to offer on your store, we recommend that you write out a list of all the details you would need to place an order on the CM Offer platform. Use this list to choose which options you would like to fix for all customers, and which options you would like to leave to the customer.
For products that offer text personalization, make sure to double check the character limit since it varies depending on the style and design of each product.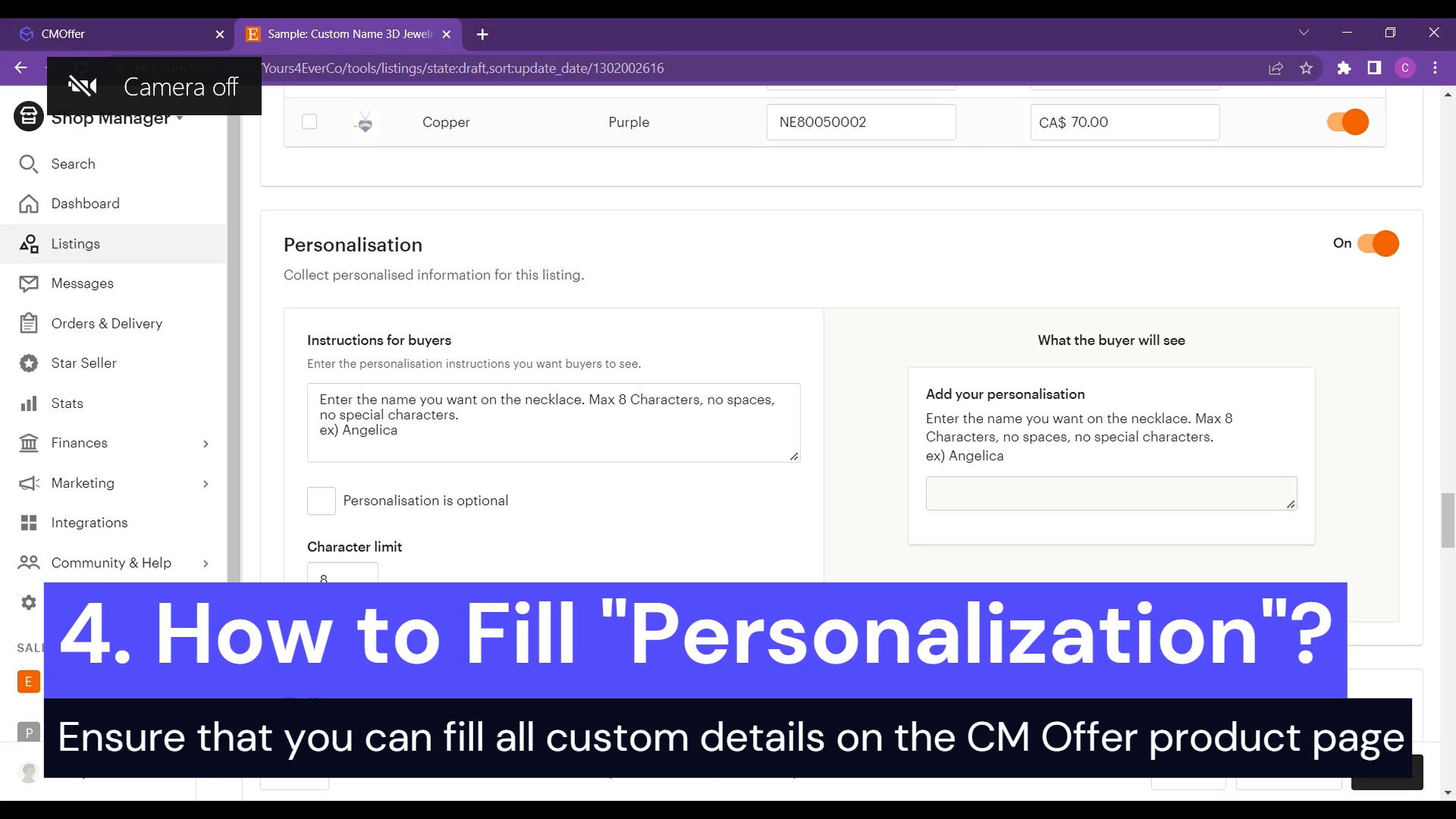 Origin Post Code
In the Delivery options, you can set the "Origin post code" to your local place of business.
Note: Our example includes a Canadian postal code, US users will be prompted to add a five digit zip code.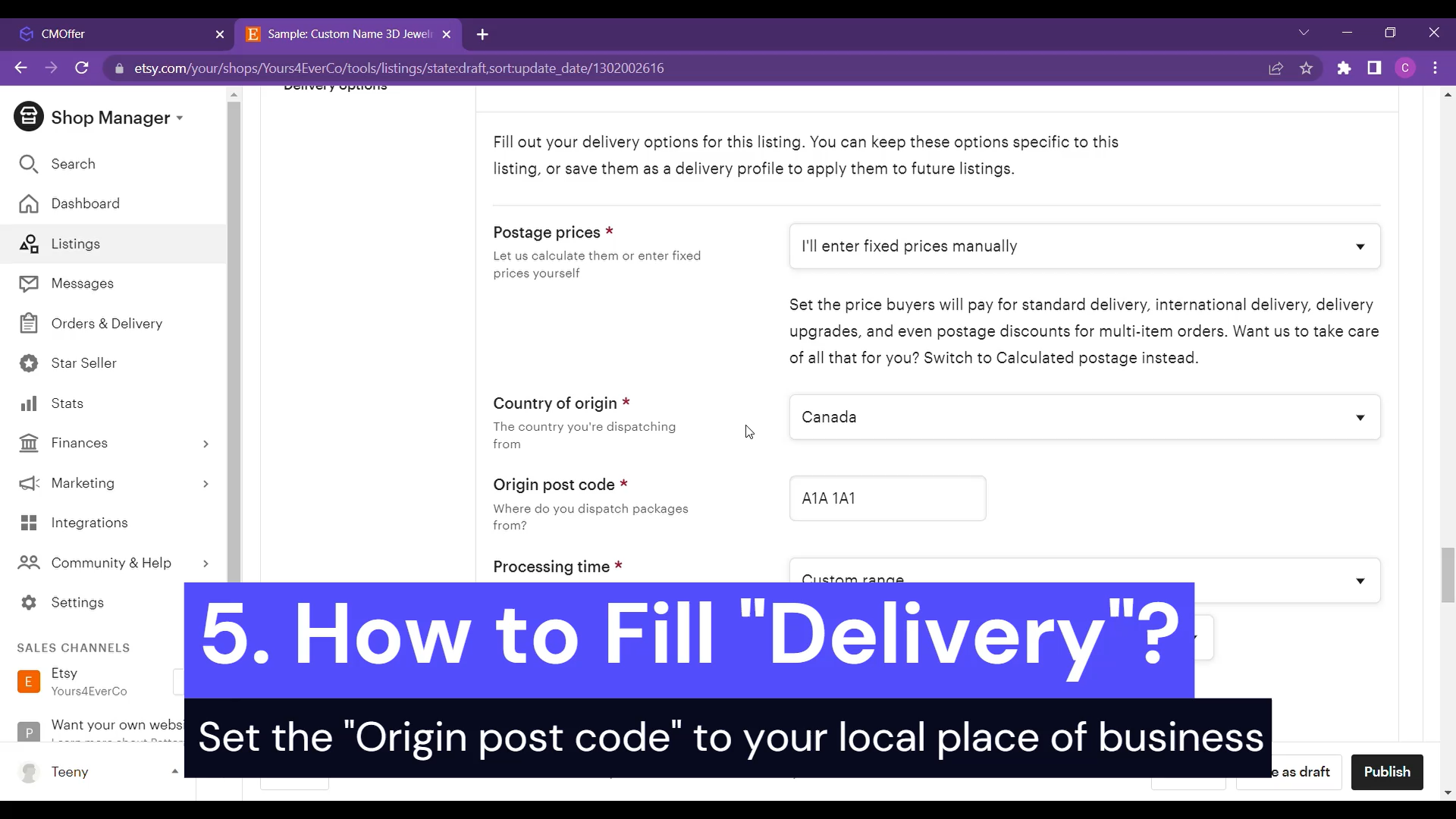 Processing Time
The processing time will be equal to the delay between a customer order and your submission to the CM Offer platform plus the CM Offer processing time. As a rough guideline, here are the processing times for our various product types:
1. birthstone jewelry 1-3 business days
2. name jewelry 5-7 business days
3. wallet and accessories 3-5 business days
4. leather bracelet 1-3 business days
5. photo jewelry 5-7 business days
6. 3D jewelry 7-10 business days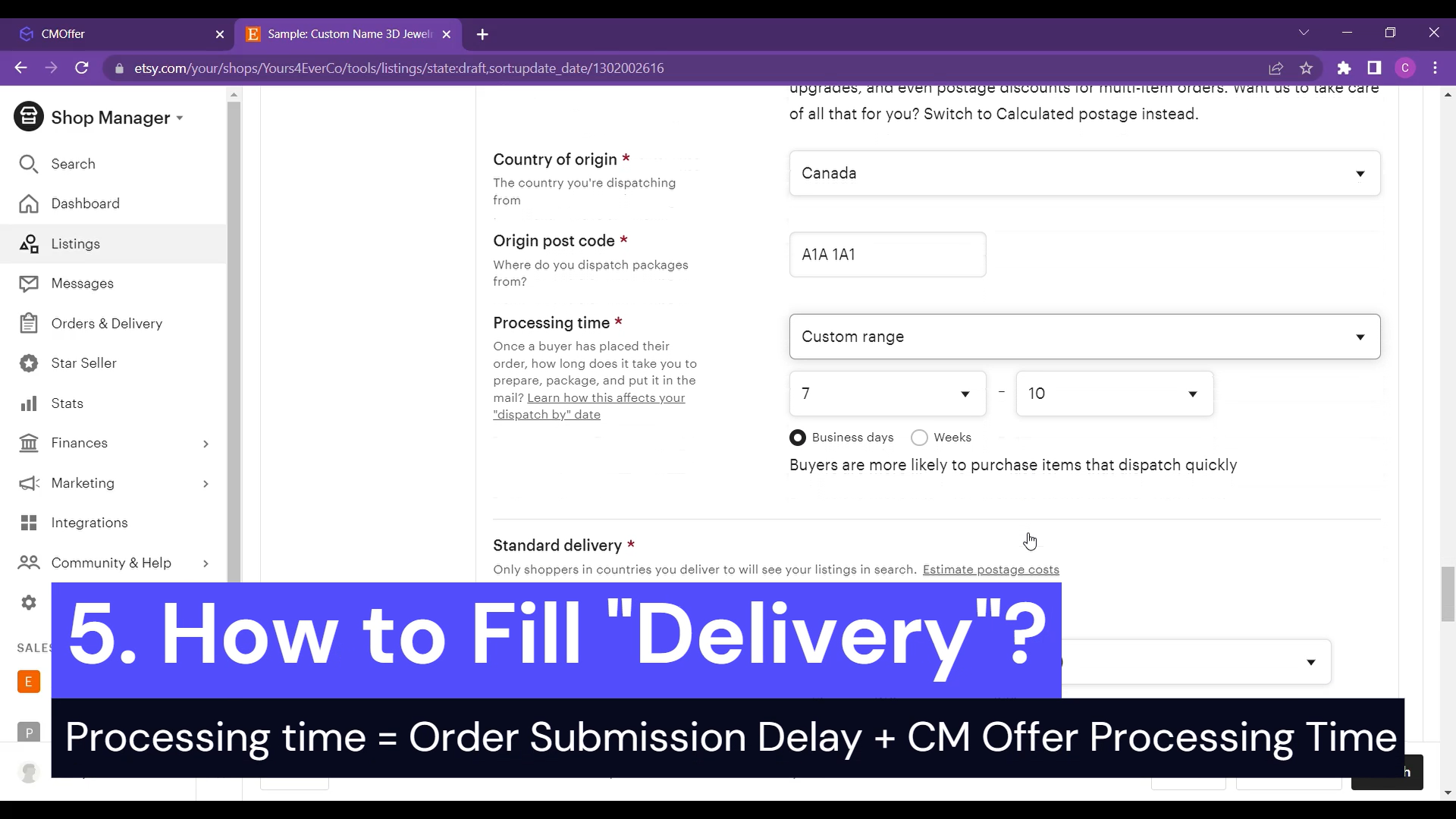 Shipping Time
The delivery time can be checked for different countries by setting an address in the CM Offer checkout page. We recommend that stores set fixed shipping rates instead of using Etsy's automatic shipping calculator.
You can also choose whether you want to offer express shipping for an extra fee.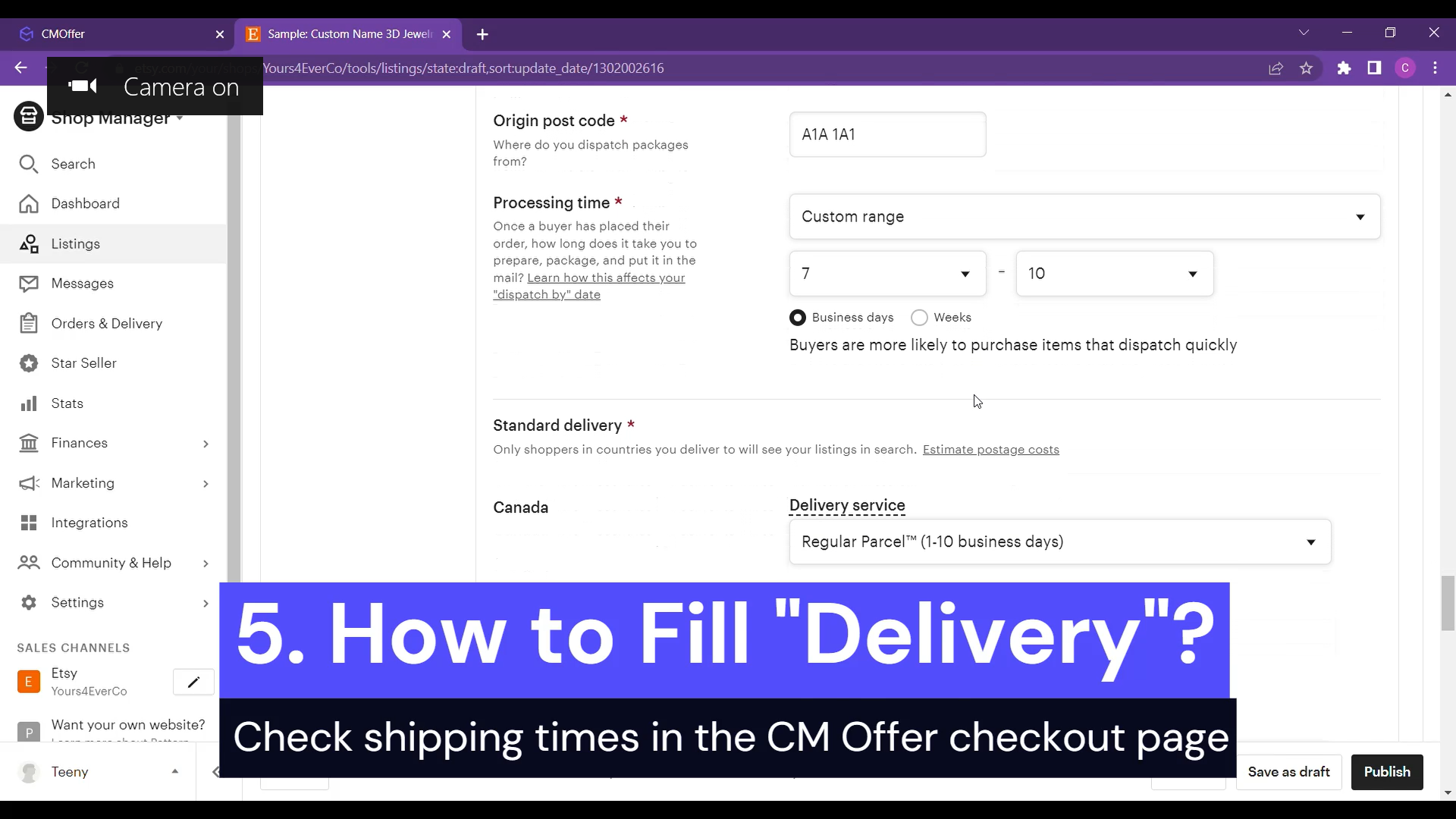 Now that you have successfully imported a product to your new Etsy Shop catalogue, it is time to start preparing for your store launch. We strongly recommend that you add your first couple new products to your store as drafts until you have a build up of 8 to 12 products. After you have enough listings ready, do one last double check of the details in your store and publish your listings to the general public!
Congratulations! If you made it this far then you now have your very own Etsy Shop that is open to real customers online!
Can't find the answer you're looking for? Please chat to our friendly team.