Getting Started
Welcome to CM Offer!
Welcome to CM Offer! In this article we will cover how to choose your first couple of products on the CM Offer platform. If you're excited to start your own online store with CM Offer but aren't sure how to get started, then this article is exactly where you should be!
First, new users will need to explore the All Products section and select products to add to their Wishlist. After choosing a couple of products users should consider ordering a physical sample while they plan out next steps to get their store up and running as soon as possible!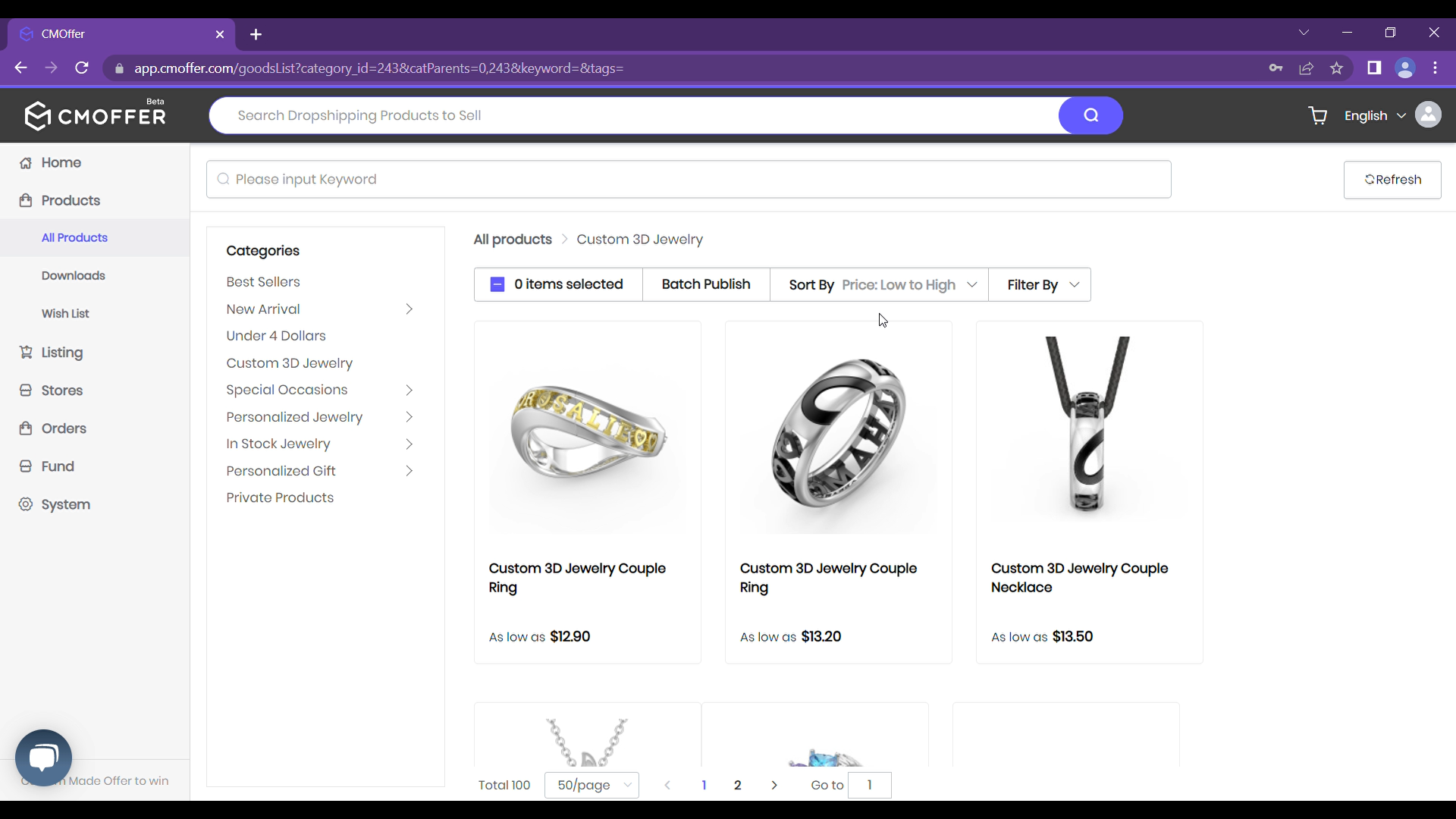 1. Explore CM Offer Product Catalogue
Start by using your new account to explore CM Offer's catalogue of 10,000+ ready to launch, best selling products!
2. Add Products to Your Wish List
Next, choose a number of products to add to your wish list. We recommend 8 to 12 products to get started.
3. Start Planning Ahead
Finally, spend some time to plan out your next couple steps and schedule a launch date for your new business.
1. Explore CM Offer Product Catalogue
After logging into your CM Offer account, it is easy to start browsing products from our catalogue of 10,000+ customizable products! It's easy to get up and running with your product search in less than 5 minutes, but we encourage users to spend more time thinking about which group of 8 to 12 products could form a good product base for their new ecommerce store.
Login to CM Offer
First, navigate to the CM Offer login page at app.cmoffer.com/login
You can also get there by clicking the button below: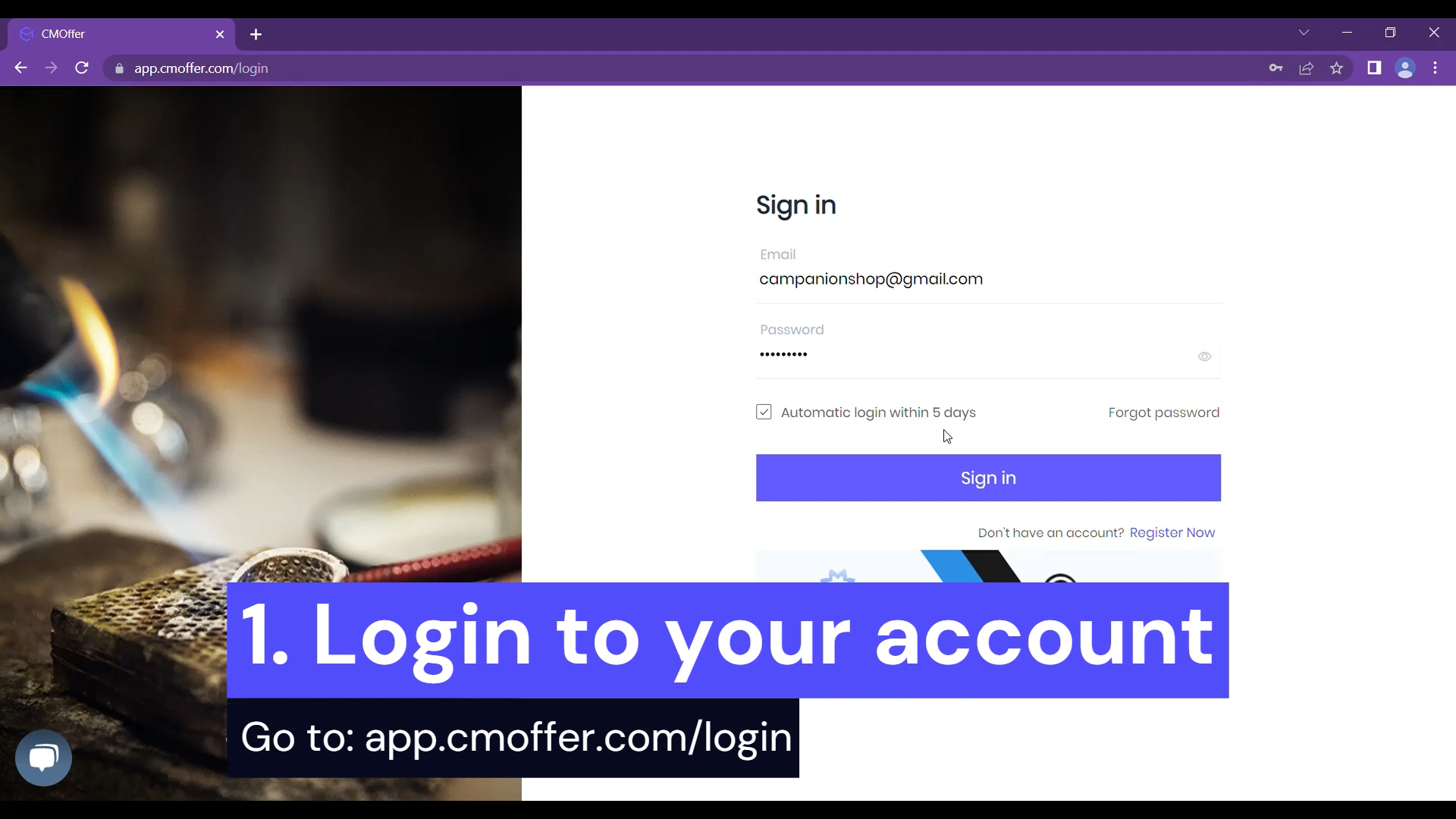 Navigate to Product Catalogue
Next, on the side menu, drop down the "Products" section and click on the "All Products" page. This will take you to our full catalogue of products.
Now it's time to get started looking for a perfect product fit for your new store!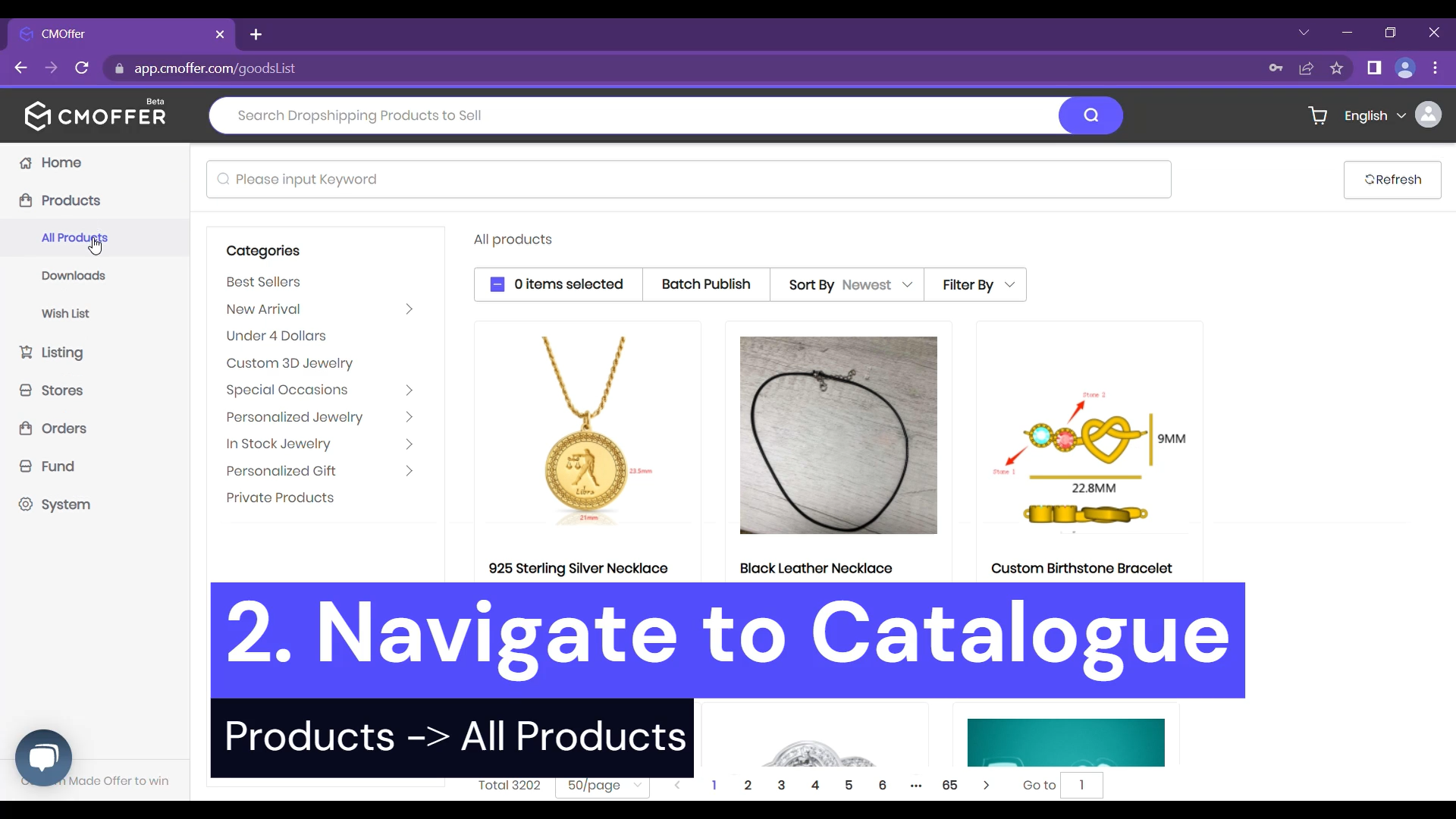 Search by Categories
You can quickly narrow your search by using the categories function. There are many different types of personalized jewelry, but we also offer a wide selection of other types of customizable made to order gifts.
For low budgets we recommend checking out the Under 4 Dollars section to get samples at a low cost! Samples are useful for building trust in our fulfilment timeline, and for taking lifestyle photos to increase the conversion rate of products on your page.
If cost is not an issue, then our favorite section has to be the Custom 3D Jewelry category!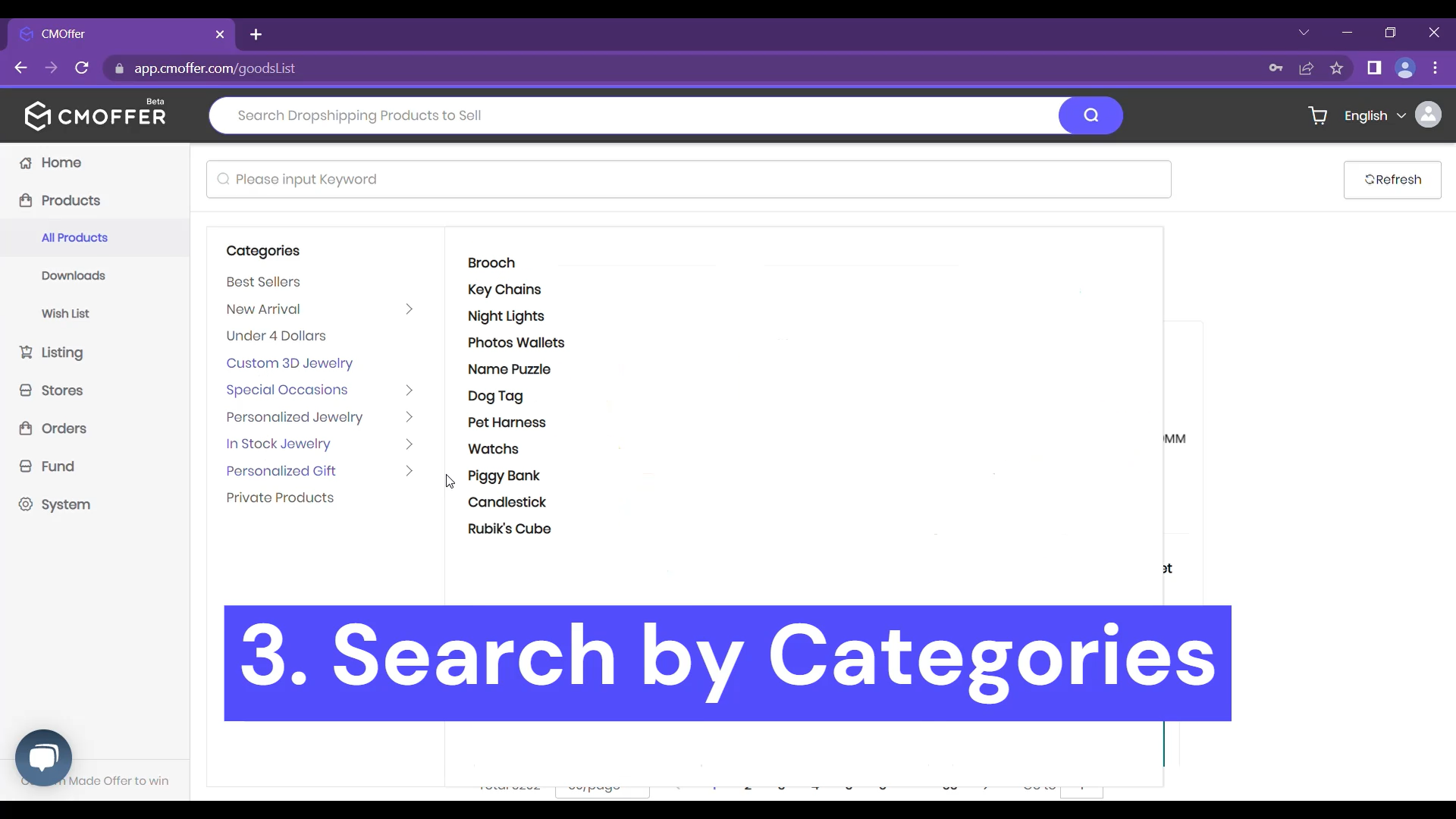 Sort By
The Sort By function allow you to quickly reorganize the products in your viewport based on parameters such as price, newest, and bestselling.
Pro-Tip: If you choose a category before using the Sort By function, you can organize only the products within that category. Sort By also works together with the Filter By function!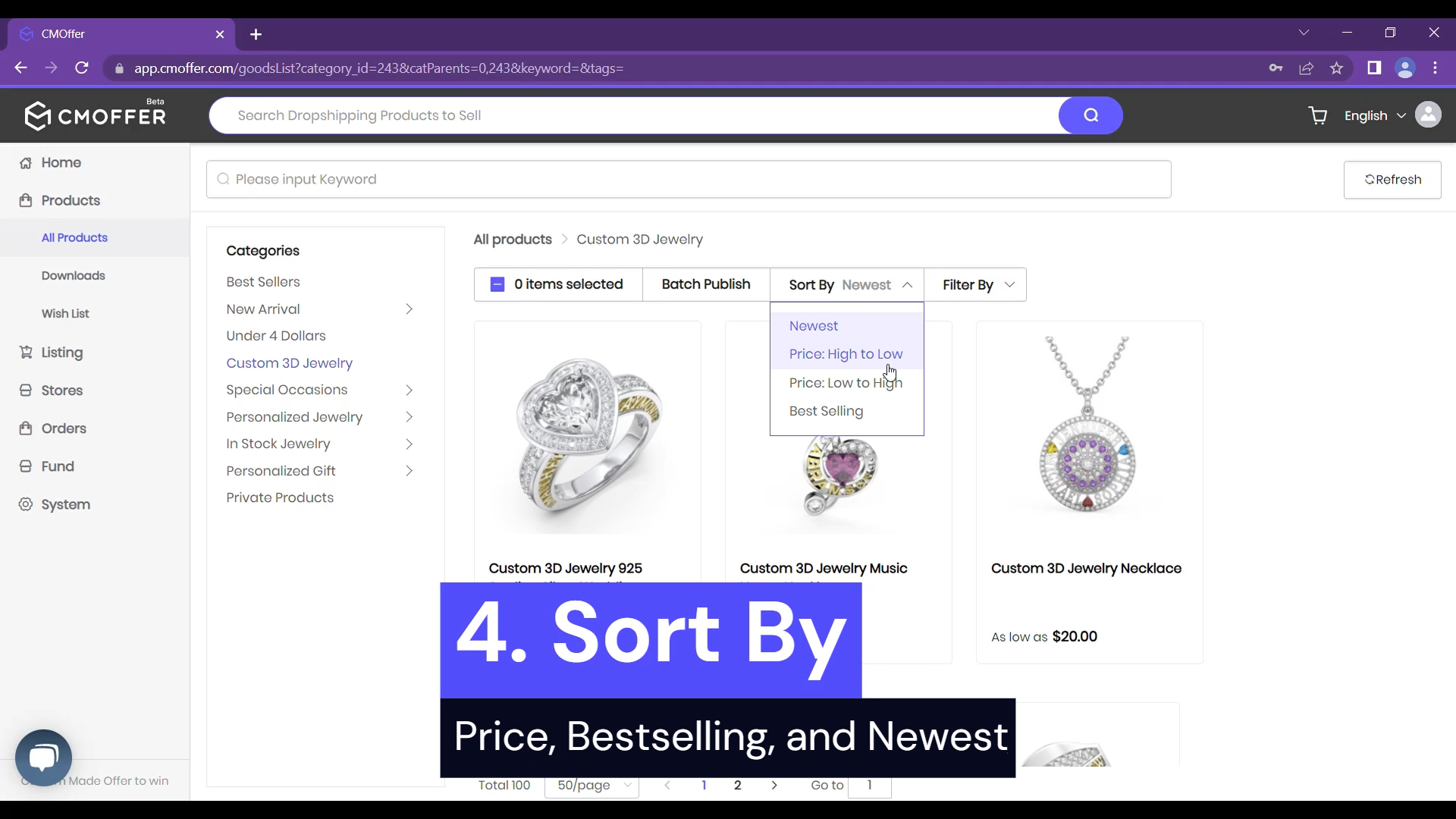 Filter By
The Filter By function allows you to quickly narrow down search results within a category. You can limit the search results to certain shapes, styles, or budgets.
Pro Tip: Remember to scroll down and click the "Submit" button at the bottom of the Filter By pop up window. The Filter By function will only populate the new results after the button has been pressed.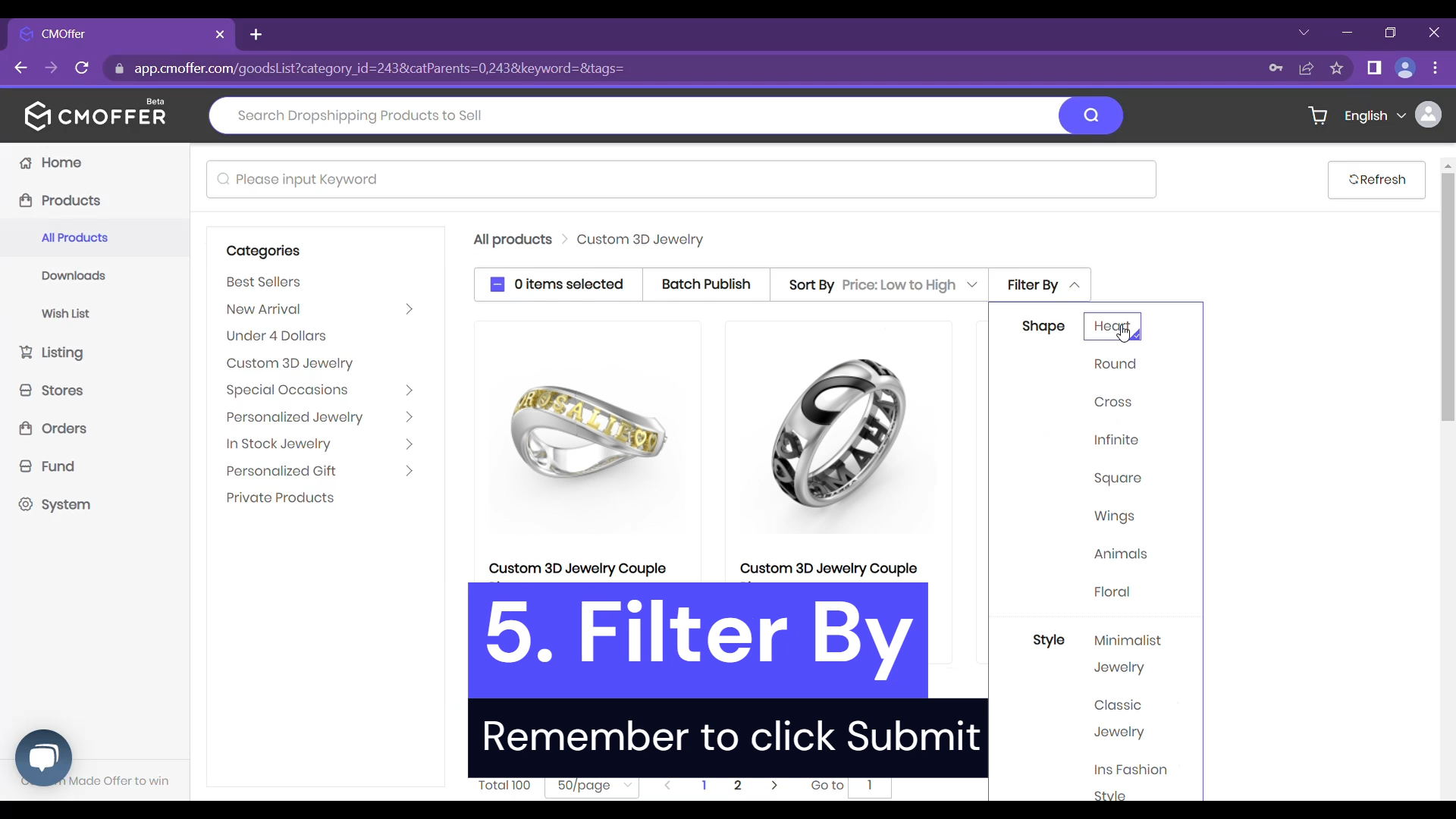 2. Add Products to Your Wish List
After you have found a product that catches your interest, it is time to have a look at the product listing details! The product page lets you view all of the customization options for a product, and also allows you to add the product to a Wish List that you can easily view in a separate page later.
Select a Product
Once you have found a product that you think has potential, it is time to check out the product page to view more details.
You can access a product's detailed listing page by clicking on the product image in the search results.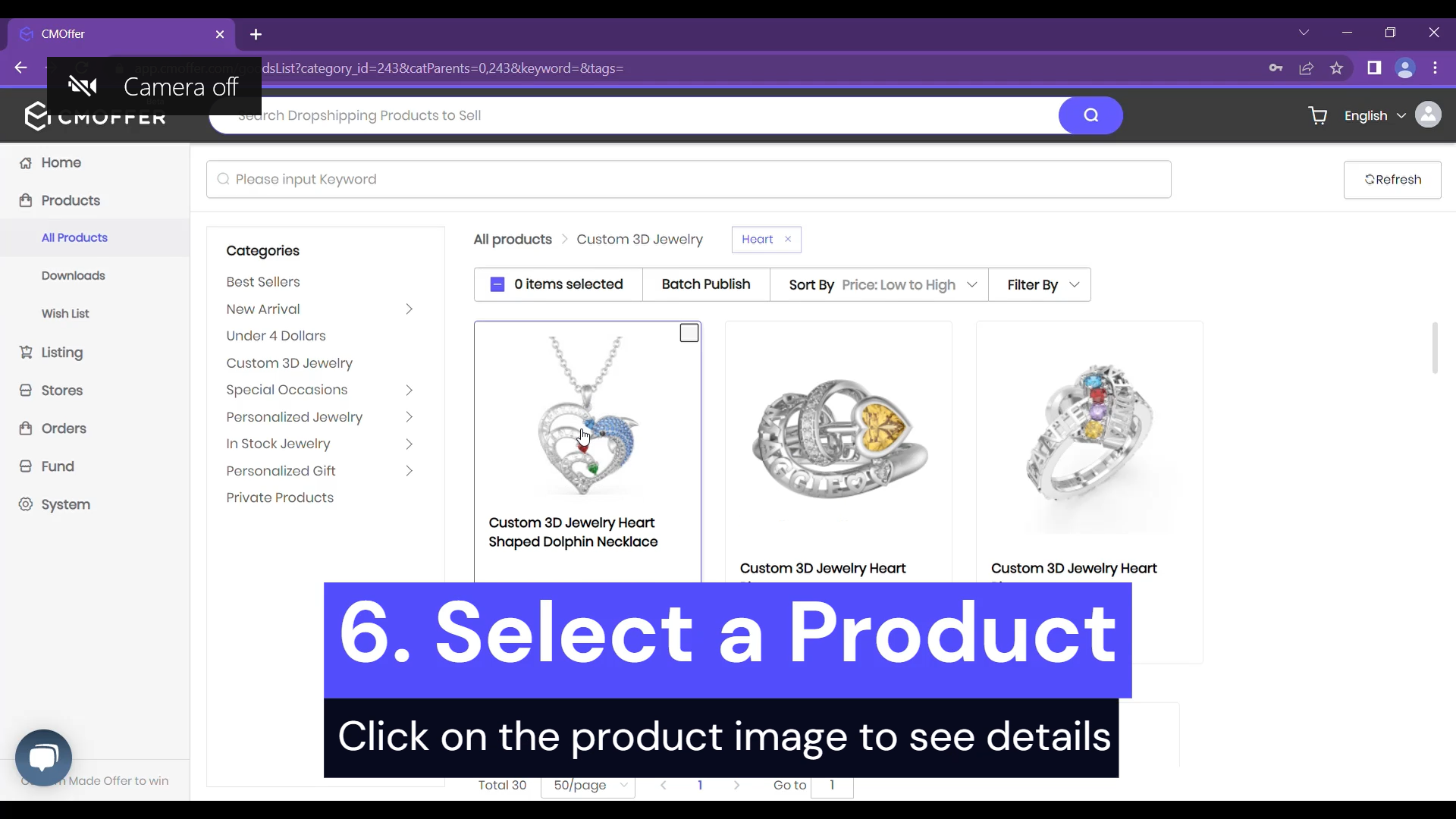 Add to Wish List
From the product page you can see all of the details related to a product such as available materials, customization options, and the price. This is also where you can add the product to your cart to order a physical sample.
To save the product for later, click the "Add to Wish" button. You will then be able to view the product on the Wishlist page inside your CM Offer account.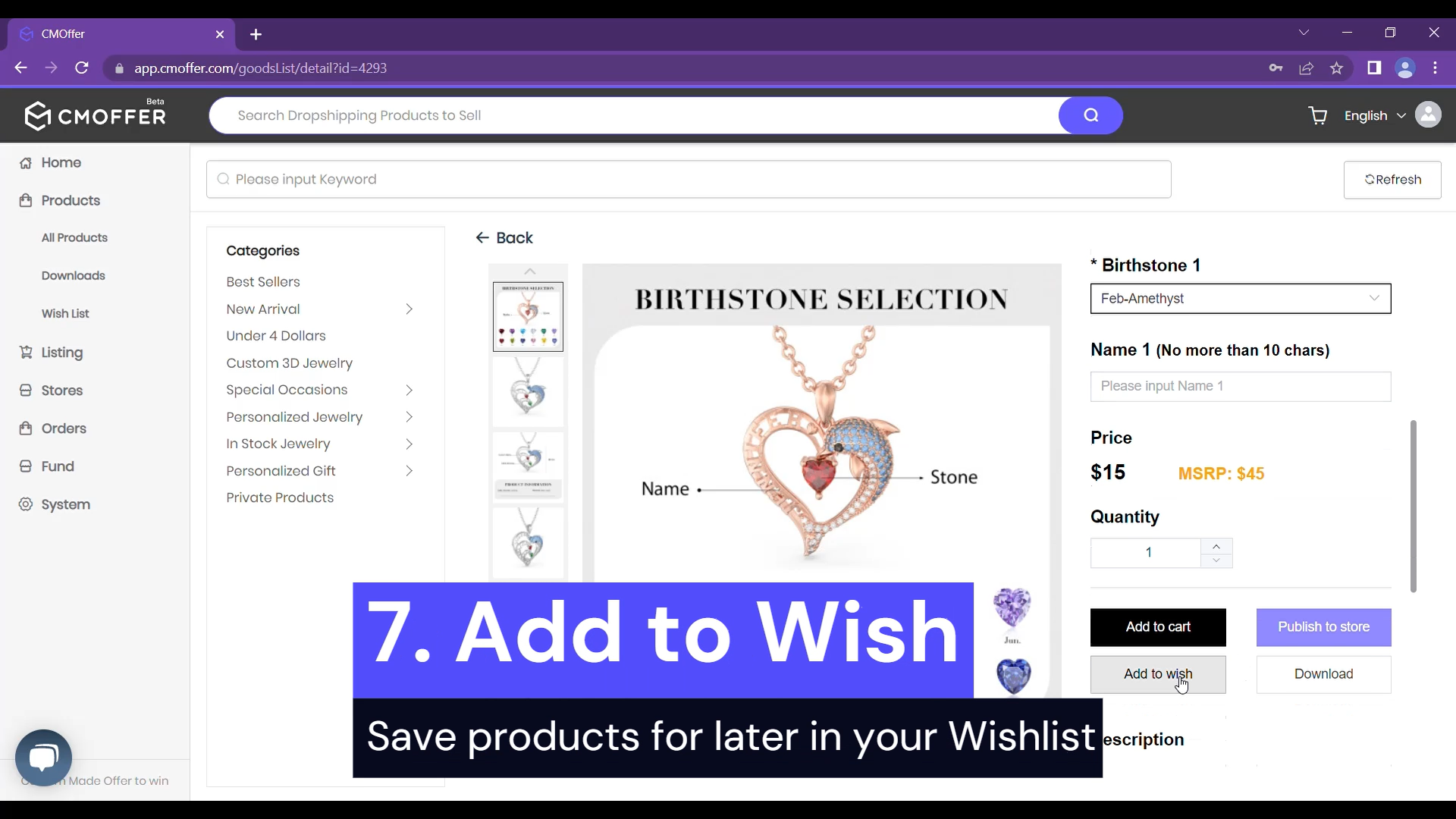 Now that you have chosen some CM Offer products to add to your new ecommerce store catalogue, it is time to start planning the next steps. It would suffice to say that we have opened a fair number of ecommerce stores ourselves. The following are the next steps our team would follow when opening an ecommerce store with a new vendor. We recommend that you copy this list down and set specific dates and times to tackle each step. For convenience we have also added a rough guideline for how much time you should budget to spend on each task during the set up process.
Order a Sample

Any time our team works with a new vendor, a physical sample is an absolute must! We recommend that you order at least one sample product from our catalogue so you can get a feeling for the quality and fulfillment timeline of our drop shipped products.

Estimated Time: 10 minutes
Connect A Shop

Pair a store with your CM Offer account to enable additional features. Depending on the platform, we offer automated product listing exports, and customer order imports. It's also a great way to keep data separable and easily accessible for the future if you decide to open multiple stores.

Estimated Time: 5 minutes per store
Import a Product

Add a product from our catalogue to your store. We offer basic photos that you can use for the initial listing, but we do recommend that you take additional lifestyle photos when your physical sample arrives. Product photos that take place in real environments are much more likely to convert compared to photos on blank backgrounds.

Estimated Time: 1 hour per product
Launch!

After you have chosen your products and added them to your storefront, it is time to open for business! Do one last double check of the details in your store and publish your listings to the general public.

Estimated Time: 2-3 hours
Can't find the answer you're looking for? Please chat to our friendly team.