Stand Out From Other Sellers: Selecting the Best Jewelry for Mother's Day Gift-Giving on Etsy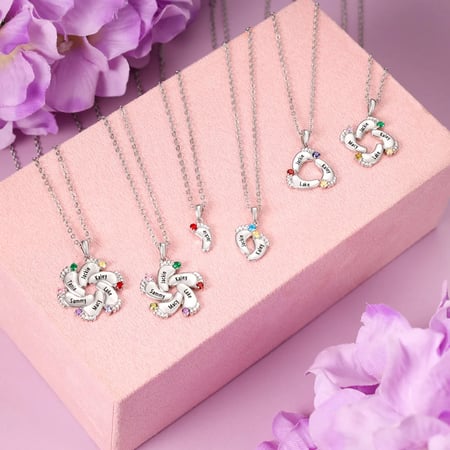 Mother's Day is a time of appreciation and celebration, so it is important to find the perfect gift. For those looking to sell jewelry on Etsy, this holiday presents an opportunity to stand out among other vendors. Choosing the best pieces for Mother's Day gifting requires careful consideration and understanding of what makes a particular piece.
What's trending on etsy in 2023?
In 2023, jewelry trends on Etsy will continue to push boundaries of creativity and modernity. Expect to see more unique and bold designs which use nontraditional materials such as resin, wood, ceramic, kyanite, labradorite, and recycled silver. These pieces will also feature intricate details that reflect the wearer's personal style and taste.
One popular trend is personalized jewelry; be it with initials or special engravings, personalized pieces can make a heartfelt statement and add an intimate touch to gifting. Another trend is mixing metals such as gold and silver together in one piece, creating one-of-a-kind accessories that shimmer in the light.
In terms of stones, Mother's Day gifts on Etsy are likely to have opals, moonstone or birthstones which all have emotional significance; opal symbolizes hope and innocence while moonstone stands for intuition and healing energy; emeralds represent growth and renewal. Many pieces are likely to feature a combination of different stone shapes such as drop earrings with a mix of marquise cuts set with diamond accents.
As technology rapidly advances, 3D printing has become widely used in making jewelry pieces from scratch. This type of jewelry offers customers vast customization options to get exactly what they want for the perfect Mother's Day surprise. 3D printed jewelry is often crafted from lightweight materials like silver or stainless steel for strength and durability but still remain lightweight for comfort wearability.
Getting Ready for Mother's Day Sale
1 Unique Style:
When it comes to finding the perfect piece of jewelry for Mother's Day, you want to find something that is unique and will stand out from the rest. As an Etsy seller, you can take advantage of this by offering handmade jewelry pieces with a distinct style. This includes focusing on the materials that you use, such as gemstones and metals.
2. Consider Customization Options:
One of the best things about buying handmade jewelry on Etsy is that you can often customize it to make it more special. This could include selecting different gemstones or metals, adding a personalized engraving, or even creating a custom design from scratch. Offering customization options as an Etsy seller will help your pieces stand out and give customersCustomization is a great way to make sure that the Mother's Day jewelry you select is truly special and unique. Etsy sellers typically offer a variety of customization options, such as engraving initials or adding birthstones to their pieces. It's important to consider this before selecting a piece of jewelry so you know what's available.
3. Quality Matters:
Quality is essential for sellers on Etsy, as it helps to ensure that the products they offer are of the highest possible standard. Quality means more than just making sure the materials used are top-notch; it also relates to the craftsmanship behind each item. The best Etsy sellers take pride in their work and strive to produce pieces that they are proud to offer.
4. Price Point:
When it comes to Mother's Day jewelry, price can be a major factor for many shoppers. Many people want to find pieces that won't break the bank, but still make a memorable gift. As an Etsy seller, you need to keep this in mind when setting prices for your jewelry. You don't want to set prices too low, as this may signal lower quality products, but you also don't want them to be so high that customers are discouraged from purchasing. Finding a balance between quality and affordability is key in order to stand out from other sellers on Etsy.